Val Bertinelli: Forget Jenny, Pass the Bread!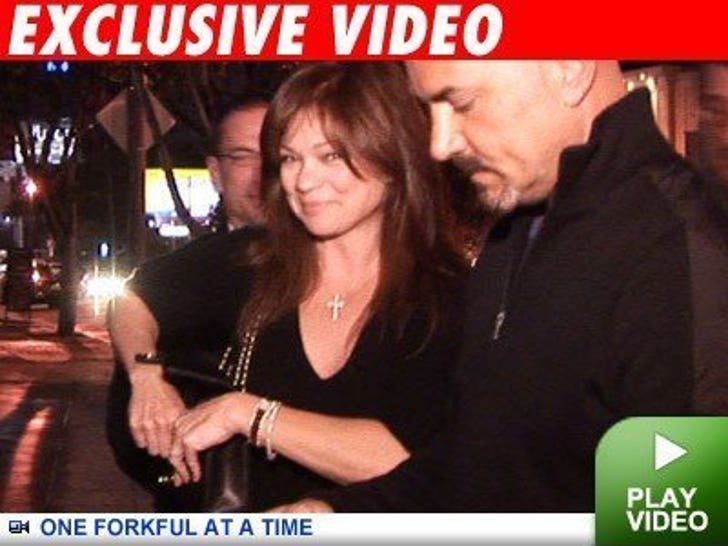 A very hot-looking Valerie Bertinelli was busted coming out of BLT Steak in West H-Wood last night -- and let's put it this way, wasn't eatin' four oz. of fish.

So we had our spies in the restaurant and here's the low down. Val went to the back room with a bunch of guys in suits for what looked like a business dinner. We couldn't see exactly what she was chokin' down, but on her way out she confessed to having a mouthful of meat. BTdubs, other items on the menu: popovers, potato gratin, bernaise and blue cheese sauce and the delectable peanut butter chocolate mousse.
In fairness, Val's on the Jenny Craig maintenance plan, which means she can occasionally chew the fat.
And speaking of maintenance, on her way out we asked Val what she thought of Priscilla Presley getting injected with motor oil. Response: Priceless. "This isn't a talk show, it's not Oprah." The irony is, it looked like Valerie was having a meeting with producers from her rumored upcoming talk show -- i.e., she wants to be Oprah!
"Dancing" With Bruising and Swelling
The walking wounded over at "Dancing With the Stars" are toughing through their injuries -- so much so they are back to rehearsing for their band. Just because they have frequent tanning appointments doesn't mean they're not tough!
We're told Derek Hough -- who went to the hospital after hurting his neck in rehearsal on Tuesday -- is fine. In fact, he's headed down to the Audi dealership today to pick up his new A5.
Mark Ballas, who suffered a bruised nose after being accidentally head-butted by Julianne Hough, is already back to work.
Mark and Derek are gonna meet up today to practice for their an upcoming gig for their band, Almost Amy.
What the Hell Happened to Your Body?!
Some of the biggest celebs in the Thirty Mile Zone are now unrecognizable, perhaps because of starvation, age, motor oil -- or all of the above. Take a look at the famous gone heinous, and please, don't judge.

Mouse Poop in Babwa's Prune Juice?
Diane Sawyer might want to take another look at her rice pilaf at lunch -- the ABC-Disney cafeteria in New York has a mouse problem, and we're not talkin' about Mickey!

That's what the NYC Health Department said in their last inspection of the joint, giving the ABC cafeteria 20 violations, including -- gag -- "evidence of mice or live mice present in facility's food and/or non-food areas," as TVNewser uncovers. NBC got cited for "food item spoiled ... contaminated or cross-contaminated" and CNN had "sanitized equipment" issues -- probably not referring to Anderson Cooper. (28 violations will get you shut down.)
FOX doesn't have a caf, so the staff eats at Wendy's in the basement. Guess what? The grease pit had less violations than any of the news commissaries. An ABC rep tells TMZ it's "looking into" the problem.
Matt Escapes Long Arm of Law: Free to Bong
Matt Leinart will not be charged with funneling alcohol to minors....even though there may be proof (as in 12 proof) to the contrary.

Pictures of Leinart surfaced earlier this week. Matty boy used his million dollar throwing arm to deliver a 12 oz. shot to the face -- the face of what appears to be a drunk chick. The question, is the beer bong-ee underage. Drinking age in Arizona is 21.
The Maricopa County Sheriff's office tells TMZ they are not investigating. They just don't wanna know if Matt's rat can legally drink. The Sheriff says pictures aren't enough to charge someone with a crime. Well, they could talk to the chicks ... we're just sayin'.
Lea Thompson: 'Memba Her?!
In the '80s, Lea Thompson became famous for starring in films like "Back to the Future" and "All the Right Moves." She then starred on the mediocre '90s TV series, "Caroline in the City." Guess what she looks like now!