Angie Everhart Busted for DUI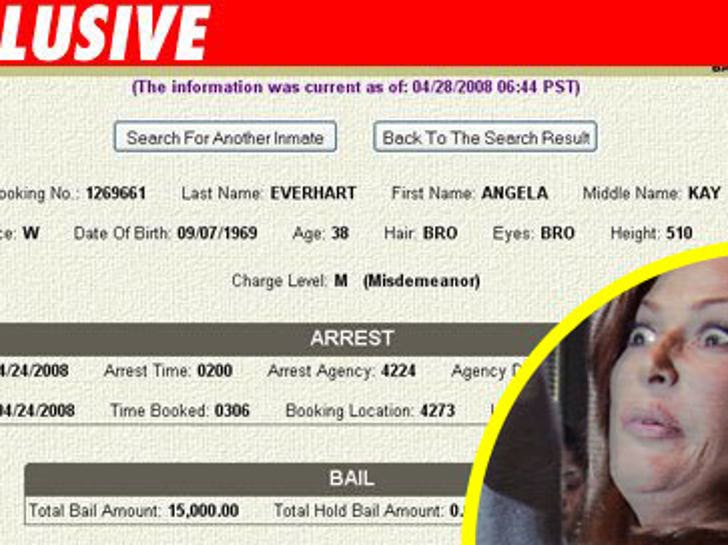 Model Angie Everhart was arrested for DUI early last Thursday and held on $15,000 bail.

She was released later that morning and is due in court on May 15.
According to an unconfirmed tip, Angie pleaded with cops to let her take a piss before submitting to a field sobriety test. After cops took her to a nearby restaurant to relieve herself, she took the test and failed. She refused to take any chemical tests because she said her attorney told her to refuse everything.
Angie's rep had no comment.
Denise Richards' Fake Reality Peep Show
Denise Richards really likes to suck it up -- and in -- for the cameras!

What a coinky-dink that a day after Heather Locklear trounced mortal enemy Denise in a bikini showdown, a crew of paparazzi just happened to catch Richards looking slammin' as she walked ever-so-slowly on the beach in Maui alone, tossed her wind-swept locks, went for an ocean dip and seductively took an outdoor shower! Even "The Hills" isn't this staged!
Let's hope the last photog to leave Hawaii will let Denise know she can exhale now.
"Baywatch" Star: Worst Supporting Actor
Gregory Williams is best known for his role as Sgt. Garner Ellerbee on "Baywatch" and is one of the most wanted actors in town -- by L.A. County Child Support Services.
Williams has earned the title of one of L.A.'s Most Wanted Delinquent Parents for failing to care for five children and owes over $209,000. In 2000, Williams plead no contest to failing to support two of his sons, but failed to appear at a later scheduled court date, so a warrant for his arrest was issued.
While he's no Bill Gates, Williams has steadily earned income as an actor appearing in everything from "Everwood" to "Law & Order: SVU." Most recently he worked on a movie currently in post-production co-starring Luke Perry and LeAnn Rimes.
TMZ contacted LACCSS who told us the information on their website is up-to-date. When TMZ asked if it was in fact the "Baywatch" star a rep replied, "Why? Do you know where he is?"
Williams' rep was not immediately available for comment.
Some stars let their fame go straight to their heads. And their butts, thighs, legs ...

Miley -- Miles from Reality on VF Shoot
Miley Cyrus might be boo-hooing about this Vanity Fair shoot, but we're told that her parents were with her "the entire time" and that they knew everything that was going on. So any suggestion that Annie Leibovitz tricked Miley into taking racy shots are absurd: "There was no subterfuge," we're told.

Well-placed sources at Vanity Fair say that the mag is "happy for all the press -- we're selling magazines, after all," and, when it comes to Miley's suggestion that the legendary Leibovitz got her to take a topless shot, "Are you going to believe Annie Leibovitz or Miley Cyrus?"
For her part, Leibovitz said in a statement, "I'm sorry that my portrait of Miley has been misinterpreted."
Whitney Houston's Voice Cracked Out Too?
Whitney Houston's voice is not right and it's not okay!
The diva debacle performed for 30 minutes -- for a reported $3mil -- to a sold out crowd at the Plymouth Jazz Festival Sunday. According to BV Buzz, her voice was beaucoup raspy by the third song. She was also unable hit the big finish in "I Will Always Love You."
In addition to her vocal malfunction, Bobby B's ex clearly would have lost "Are You Smarter Than A Fifth Grader," as she repeatedly shouted to the crowd, "I Love you, Trinidad!" She was actually in Tobago.

See Also
Money might not be able to buy some stars class, but it can do wonders on the figure. Check out whose waist shrunk as their celeb status rose.