Partly Cloudy with a Chance of Groping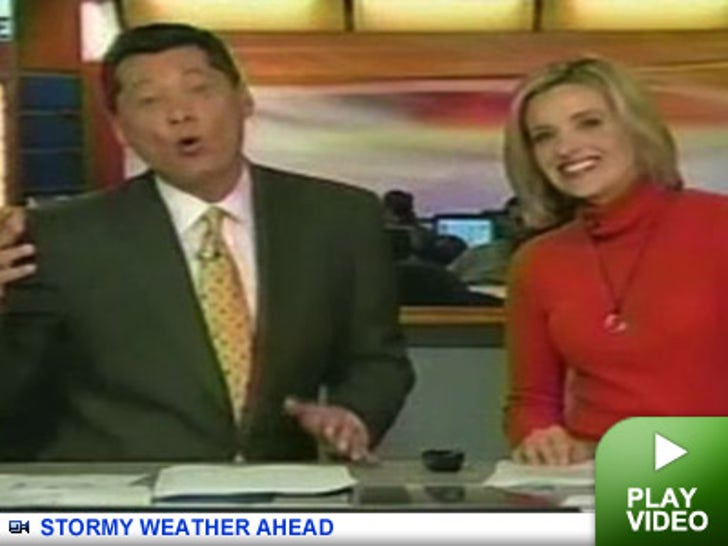 A little song, a little dance, a little drizzle down your pants. That kinda sums up a blistering lawsuit filed by a former Weather Channel anchor against her colleague.

Hillary Andrews claims Bob Stokes tormented her with crude, sexual come-ons, including once allegedly asking her, "Will you lick my swizzle stick?" Andrews also claims Stokes followed her into the women's dressing room, quizzed her about her sexual relationships, and pleaded with her to say she found him attractive. Oh yeah, and then there's this... Stokes allegedly told her, "It tortures me when you wear those heels and skirt."
Andrews took legal action against The Weather Channel, claiming it retaliated against her after she complained and then refused to take action against Stokes. Both since have been fired.
Thesmokinggun.com obtained a lawsuit filed by Andrews against Stokes. That case is pending. Our forecast....he's screwed.
God bless Hollywood -- and the stars that seem to be timeless. And even more so, bless those whose relationship with Father Time has been, to say the least, dysfunctional.

Dancing and Having Sex with the Stars
There have been rumors swirling over who's hooking up with who on "Dancing with the Stars." There's a story going around that Cheryl Burke hooked up with Drew Lachey, although both strongly deny it. Mario Lopez definitely got busy with Karina Smirnov. And now we know Derek Hough and Shannon Elizabeth got it on.

So what is the "DWTS" policy on the subject of sex with your partner? Our sources connected with the show say ... there is no policy. Dancers can do what they want, and the fact is, it's good for business when there's steam.
Is the Fix in For Archuleta?
David Archuleta could fart and the "A.I." judges would say bravo.

Davie boy was pretty good last night, but really, it's as if the judges were preprogrammed to drool over him regardless of what he did. They didn't cream over Kelly Clarkson the way they did with David, and no offense, but he eats her dust.
"Idol" has its mitts on the recording contracts of the winners. So is this about talent, or that David is more commercial and has a longer shelf life? We're just askin'.....
It's real hard to find a good meal these days, especially when you're stuck in jail or rehab. But not all of these waif-like stars have incarceration to blame for their inability to fill out a pair of skinny jeans.

The "Bionic Woman": 'Memba Her?!
Finally, Something Other than a Celeb Blows
It's not God exacting revenge on Heidi Montag -- it's a volcano erupting in Chaiten, Chile during a lightning storm.

No, it ain't Photoshopped.