"L Word" Star - Burn Me 32 Times, Shame On Me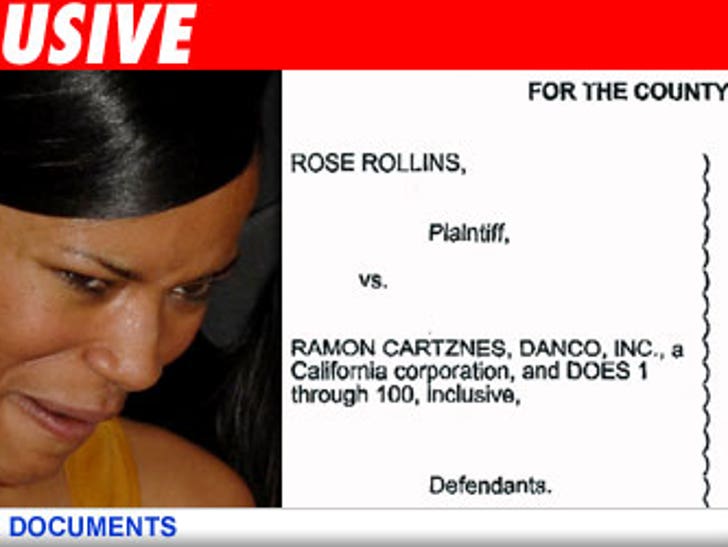 Rose Rollins admittedly has a thing or two to learn about business. And after what she's alleging in a lawsuit, no jury in the world would doubt her.

In the suit, filed today in L.A. County Superior Court, Rollins, who played a military chick on "The L Word," claims she began a "confidential relationship" with the defendant, Ramon Cartznes, back in 2003. Apparently things went south, because Rollins says the dude took her for all she's worth.
Item: Rollins claims she gave Cartznes $30,000 for a piece of investment property and he fraudulently put it in his name and that was that. She says she's out the money.
Item: Rollins claims she and Cartznes opened several credit card accounts and he racked up $53,689 in charges that he hasn't paid.
Item: Rollin claims Cartznes racked up a cell phone bill of $6,991 that he refuses to pay.
Item: She claims he owes her $2,265 for money she fronted to Cartznes' daughter.
Item: He stiffed her to the tune of $22,064 on Range Rover payments.
Item: In another real estate deal, Rollins alleges he cheated her out of $54,321.
She's suing for nearly $300,000 plus punitive damages. In the suit Rollins says she is "very unsophisticated as to business matters." Duh.
UPDATE: Cartznes, through a rep, tells us, "Rose's allegations in the lawsuit filed against me are completely false. I have the financial records to prove that I owe her absolutely nothing. The information in the lawsuit is untrue and slanderous. I must take all appropriate actions to protect my good name and reputation. Due to the pending litigation, I'm unable to go into details at this time, however, I look forward to defending myself in court against this ludicrous matter."