Hasselbeck Accused of No Original Thoughts
Hasselbeck
Accused of No Original Thoughts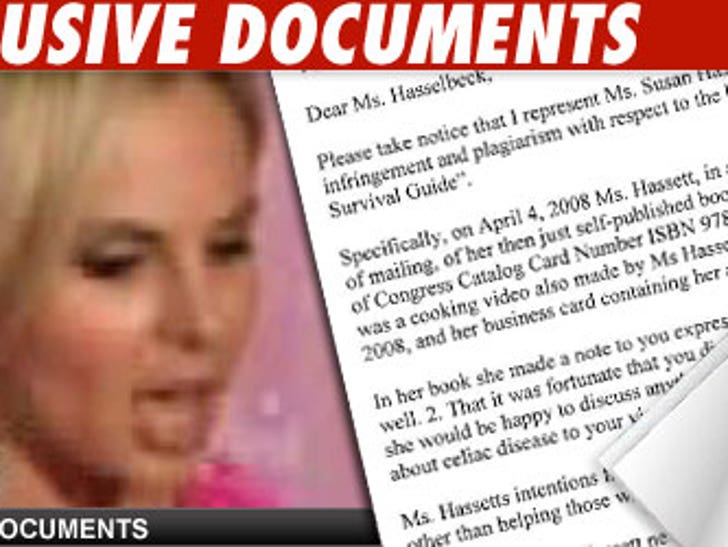 Elisabeth Hasselbeck ripped off a woman by plagiarizing her disease material -- so claims Susan Hassett, who fired off a letter to "The View" host just before suing her.
We obtained the letter -- in which Susan claims she sent Elisabeth a book called "Living with Celiac Disease" back in April of '08. Thirteen months later, Susan says Hasselbeck published the same book with a new title: "The G Free Diet-A Gluten Free Survival Guide." Yes, the title sucks.
Susan compares chapters and lines. Here are some highlights.
Susan's Book Chapter 1: What is Celiac Disease?
Hasselbeck Chapter 2: What is Celiac Disease?
Susan's tips: "Shop in the outer isles of the supermarket."
Hasselbeck's tips: "Food in the outer isles of the supermarket."
And the comparisons go on and on.
Susan just sued Elisabeth for copyright infringement and plagiarism.
UPDATE: We've just obtained a statement from Elisabeth's people: "Neither Center Street nor Elisabeth Hasselbeck has been served with the Complain in this action. However, there is no basis for the allegations in the Complaint as published in the press. Ms. Hasselbeck worked diligently and tirelessly on her book and is disappointed in this attempt to discredit her work and her ability to bring this important message to the public."