Reggie Miller -- I'm No Homewrecker, Just a Flirt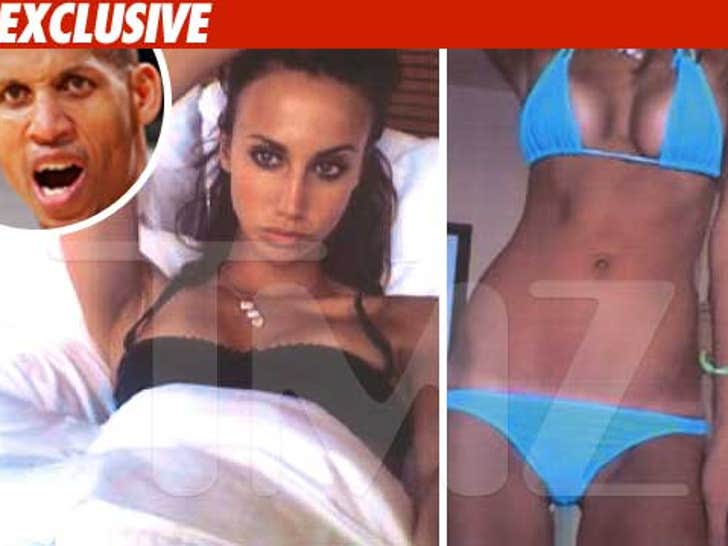 Reggie Miller is denying accusations he got down with someone else's fiancee -- but the former basketball star does admit he flirted a little bit ... well, actually a lot. But judging by the pics she texted Reggie, two played that game.
The entire Southern California coastline was roped into the story last weekend, after Alex von Furstenberg -- the son of designer Diane von Furstenberg -- hired a small plane to fly over the beaches with a sign that read, "Reggie Miller Stop Pursuing Married Women."
It's all over Alex's fiancee, Ali Kay.
According to Reggie's rep, Miller and Ali met at a Malibu supermarket back in March. Reggie says the two flirted and spent the rest of the day texting like crazy -- each sending more than 50 texts to the other in a 6 hour span (we obtained Reggie's phone records and verified the number of text messages that were sent back and forth).
Reggie claims Ali -- a clothing designer -- even texted him 2 provocative photos of herself (above), which TMZ has obtained.
But according to Reggie, in April he had enough and took her out of his phone contact list. But Reggie says in May, Ali reconnected with him, wanting to know why he had closed the door. Reggie says the next day he got an angry call from Alex.
Reggie claims Alex then began a campaign of harassment -- repeatedly calling Miller's friends and even hiring a private investigator to tail Reggie. Alex says he escalated matters because Reggie continued to pursue his fiancee. Reggie says not only is that a lie ... Reggie had to hire a lawyer to prepare a restraining order against Alex. Alex responded by hiring his own lawyer to prepare a counter restraining order, but neither document was ever filed with the court.
Over the July 4 weekend, we're told there was a telephone summit in which Reggie, Alex and the lawyers supposedly buried the hatchet and it seemed everyone had moved on ... that is, until the giant sign flew over the beach.