Jenkins Power Dialed after Fiore's Death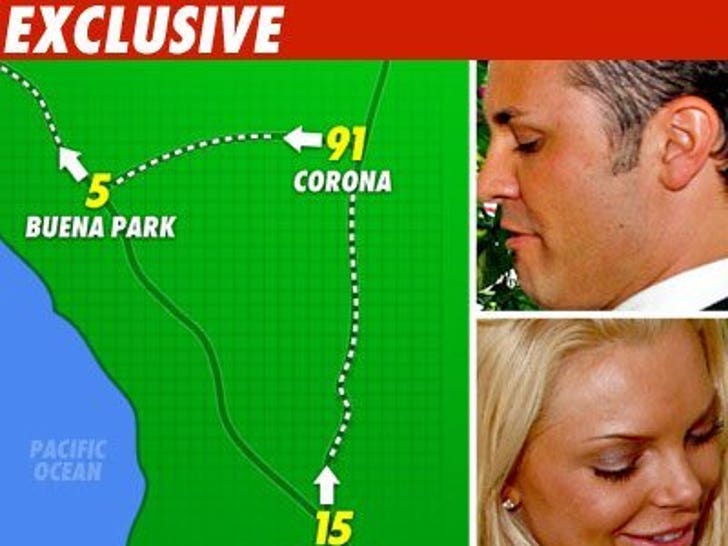 Cops tell TMZ Ryan Jenkins made a combined 30 phone calls and text messages between the hours of 9:30 AM and 5:00 PM on August 14 -- hours after they believe Jasmine Fiore had been murdered.
Here's the rundown: Buena Park police think Ryan Jenkins severely beat Jasmine after they left the San Diego Hilton hotel at 2:30 AM on the 14th. Jenkins was seen entering the L'Auberge Del Mar hotel in San Diego at 4:30 AM alone. Cops believe Jasmine was taken into the hotel through a back patio entrance, which does not have a security camera.
A small amount of blood and hair was found on the patio. Cops say they never saw Jenkins leave the hotel with the suitcase Jasmine was found in. They think Ryan put her in the suitcase and took her out through the patio, because he was finally seen leaving the hotel without her or the suitcase at 9:20 AM. It's unclear if Jasmine died in the hotel or in the car.
Cops say Jenkins made around 30 phone calls and texts between the time he left San Diego at 9:20 AM and arrived in Los Angeles at 5 PM. During this time, cops believe Ryan drove to Corona, pulled off-road and removed her teeth and fingertips -- then dropped her body off in Buena Park before driving to Los Angeles. Cops won't say who he called and texted.
AND GET THIS: Cops say once Ryan arrived in L.A., he sent his and Jasmine's wedding rings to Las Vegas via Fed-Ex with instructions to be cleaned. Cops say he never picked up the rings, which are now in the possession of the Buena Park Police Department.