Mr. Chow -- Violent Imposter is Stealing My Biz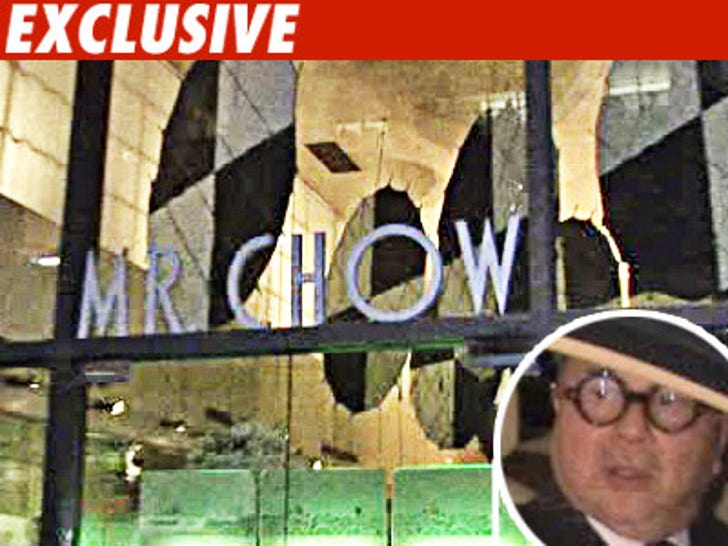 Mr. Chow claims his employees have been getting violent threats from a Mr. Chow impostor -- and it's all part of an alleged nation-wide conspiracy to steal business from the world famous Chinese food king.
Michael Chow -- the real Mr. Chow -- has filed a new lawsuit against a dude named Chak Yam Chau ... a former "food chopper"' who spent 25 years working at Chow's famous New York restaurant.
"Real" Chow claims "fake" Chau left Mr. Chow in 2005 to start his own restaurant in New York, which he named "Phillipe Chow" -- allegedly using the "Chow" name to dupe potential customers.
But now Chau is trying to open a restaurant in West Hollywood -- right near Chow's famous Beverly Hills location -- and Chow claims things are starting to get really nasty. "Real" Chow claims "fake" Chau's people have been waging an all out war to steal business, and suspects they have used the following tactics:
-- sending a spy -- disguised as a chef -- through a Mr. Chow kitchen to take photos
-- making "large group reservations for no-shows"
-- making "bogus calls purporting to place vast and expensive take-out orders which are never picked up"
-- making harassing phone calls to Mr. Chow employees
-- threatening Mr. Chow employees with violence
-- trying to steal contracted employees by offering unfair compensation
-- smashing the glass door at Chow's Beverly Hills restaurant
-- defacing paint on a Mr. Chow sign
"Real" Chow is suing for more than $10 million -- and demanding that L.A. County Superior Court forces the "fake" Chau to stop implying that he is affiliated with Mr. Chow in any capacity.