Karina Smirnoff Finds a Penny, Picks Him Up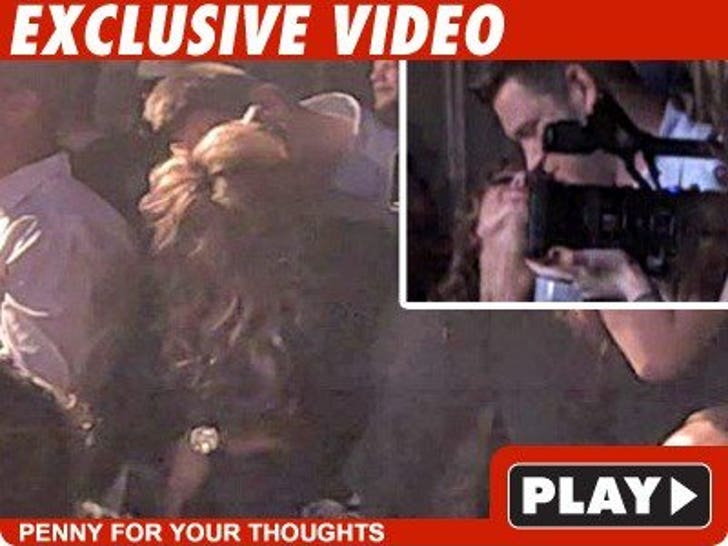 Karina Smirnoff's new man is a giant -- as in San Francisco Giants starting pitcher Brad Penny.
The "Dancing with the Stars" pro -- who just broke up with ex-fiance Maksim Chmerkovskiy -- was all over the baseball player last night during the Steel Panther show at the Key Club.
She may be a professional hip-shaker, but the only dancing these two were doing was with their tongues.
'Big Brother' Winner Arrested for Drug Dealing
Adam "Baller" Jasinski won "Big Brother" in 2008 -- and now he'll be sharing living space with even more strangers behind bars ... because cops say he used his $500,000 winnings to fund a drug dealing business.
According to FOX 25, Jasinski was busted Saturday night by the DEA with 2,000 oxycodone pills during an attempted drug deal in North Reading, MA. Jasinki was thrown in jail and charged with possession of oxycodone pills with intent to distribute.
Cops say Jasinski admitted to funding his illegal venture with his $500,000 winnings from the show. He'll remain in police custody until his next hearing on Thursday.
Adam faces up to 20 years in the slammer and a $1 million fine.
UPDATE: Big Brother was definitely watching when Jasinski got busted -- the person he was allegedly trying to sell the pills to was a government witness who was wearing a wire.
Cops say Jasinski pulled a pill-stuffed sock from his pants and handed them over -- and that's when they swooped in for the bust.
The arresting officer also claims Jasinski did not go quietly into custody, accusing the reality star of putting up a struggle before he got Adam into a fresh pair of cuffs.
Guess Who This Lil' Girl Turned Into!
TMZ's Sexy Halloween Costume Contest -- Finals!
The steamiest of Halloween costume photos poured into the TMZ newsroom for our Sexy Halloween Costume Contest and these pics leave little to the imagination! Consider yourselves warned -- a few of these pics are a bit frightening!
Stephanie Pratt -- Before the DUI
Stephanie Pratt spent Saturday evening at a birthday party in Hollywood for Holly Montag. She spent Sunday morning in jail after she was arrested for DUI.
A good time was had by all. Maybe too good.
You Can't Handle the Tooth!
Brace yourself -- cause these stars sure as hell didn't.

Hear ye! Hear ye! Wethinks these paintings from Worth1000.com will fetch ye fancy -- so clicketh through 'n swoon at tis paintings done with the freshest of computer softwares!


Supermodels: Then and Now
Some of the biggest models in Hollywood have aged like wine. Others ... not so much.