Trump Rule -- Hot Chicks Required in Miss USA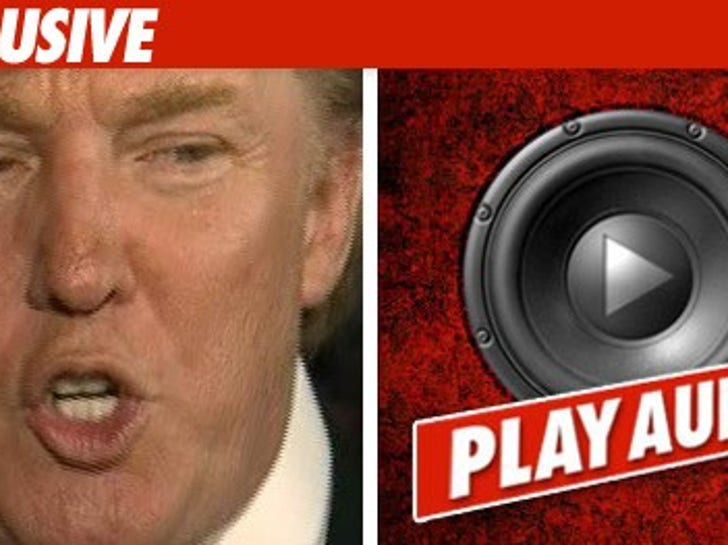 Carrie Prejean just accused Donald Trump of personally weeding out the ugly chicks from the Miss USA pageant -- and for once ... she's not entirely off base.
TMZ obtained an audio tape recorded during the pre-show screening portion of the 2009 pageant, in which Trump can clearly be heard exercising "The Trump Rule" -- which guarantees a certain number of "beautiful" women will advance in the contest.
On the tape, Trump explains that when he "bought" the Miss USA pageant, "the most beautiful people were never chosen. And I went nuts." So, according to the audio, Trump implemented "The Trump Rule" -- in which he and his staff of "professionals" would select "almost half" of the women who would automatically make it into the first round of the contest.
On the tape, Trump can be heard asking certain contestants who they thought deserved to rank amongst the most beautiful, insisting "You know when you do this to somebody you make an eternal friend."
Miss Pennsylvania chose Miss Kansas ... Miss Oregon chose Miss Texas .. and it sounds like Miss California herself, Carrie Prejean, chose Miss New York ... although we're told she ultimately went with Miss Hawaii. Miss Massachusetts and Miss Ohio were also chosen.
The selected women were asked to stand in line, separate from the rest of the bunch. When Miss Ohio was chosen, she got in the wrong line ... and had to be redirected to the "beautiful" people.
Trump insists that the exercise didn't matter ... that it was just for "fun" -- and that certain women had already been selected to advance.
But here's the best part -- while holding the attention of a room full of hot chicks, Trump decided to pimp out his son Eric, telling the girls, "he's very handsome ... he's 6 foot 6 ... and he was number one in his class in school."
Donald Trump -- wingman of the year.
TMZ spoke with Trump, who tells us "That's why Miss Universe and Miss USA get such good ratings ... and that is why Miss America is off the air."