GLAAD Backs ABC's Decision to Can Lambert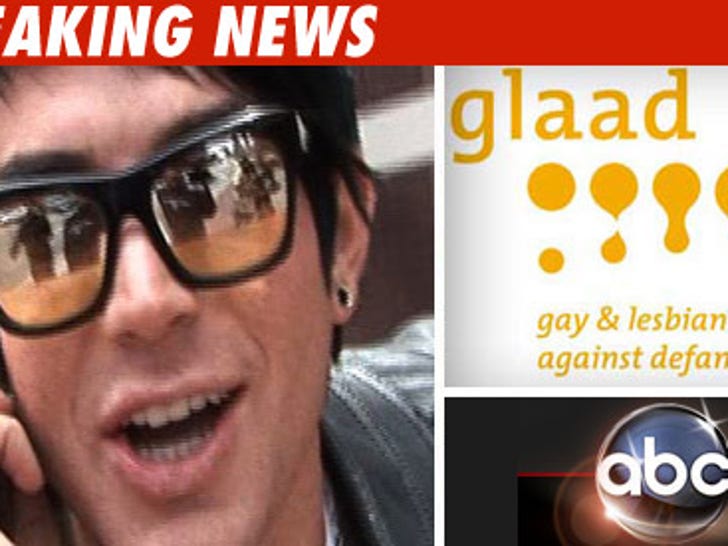 Adam Lambert's sexual orientation had nothing to do with ABC's decision to can him from two upcoming gigs on their network ... it was all because he can't stick to a script -- at least that's what ABC and GLAAD would like you to believe.
The nation's most outspoken gay rights group just released a statement in support of ABC's decision to boot Lambert from "Jimmy Kimmel Live" and an upcoming New Year's Eve special in the wake of his AMA performance -- the one with the man-on-man kiss.
ABC sent a statement to GLAAD, explaining how Adam's removal was "not a question of Lambert's sexual orientation" but was instead because his live performance at the AMAs differed "greatly" from rehearsals and "caught the network off guard" -- which is justification for dropping him from other live shows.
Today, GLAAD backed ABC's explanation saying, "It would appear that the kiss between Adam Lambert and his keyboardist did not factor into ABC's decision ... ABC has a history of positive gay and transgender inclusion that includes featuring kisses between gay and lesbian couples on-air."
For the record, neither Adrien Brody nor Halle Berry were banned from appearing on any ABC shows after their "unscripted" make-out session at the 2003 Academy Awards.
UPDATE: GLAAD tells us they have "asked ABC and calls on them for clarification on 'caught off guard' so that the community knows why Lambert is being denied the opportunity to perform on the network."