Jayson Williams Sentenced - 5 Years Behind Bars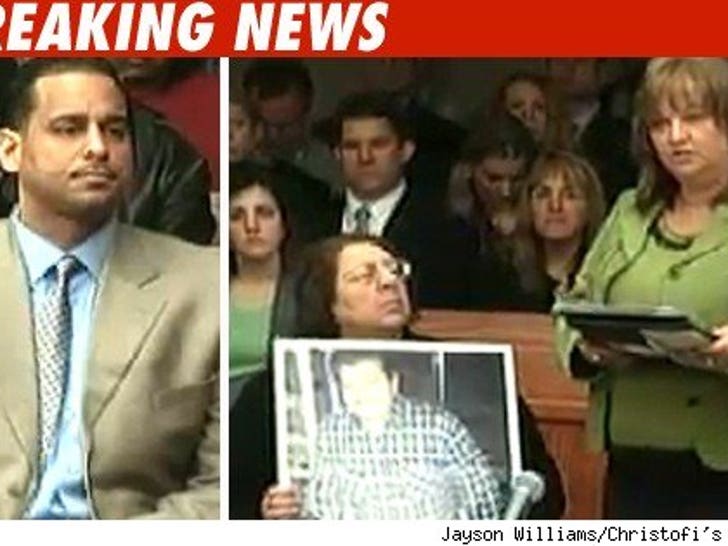 Former NBA star Jayson Williams was just sentenced to five years in prison for the 2002 shooting death of his limo driver, Costas Christofi, and will be available for parole after 18 months.
During the hearing, Christofi's sister held up a photo of him, while a rep for the family stood up and said Jayson had never apologized to the family for killing Christofi. The rep begged the judge to make Jayson serve all five years in prison without probation.
Jayson eventually stood up, teary-eyed, and apologized to them ... along with his own family, church and the NBA.
Jayson was eventually handcuffed and taken out of the courtroom. We're told he'll be taken to the Hunterdon County Correctional Facility ... where he could remain for weeks until he's moved to his permanent lodging.
We were live inside Somerset County Courthouse in New Jersey during Jayson's sentencing this morning, below are the highlights from the hearing ... video to follow.
UPDATE 9:35 AM ET: It has begun. The prosecutor just asked the judge to sentence Jayson to 5 years behind bars with a minimum of 18 months with parole. The prosecutor told the judge Jayson has a "dark side."
UPDATE 9:44 AM ET: The prosecutor asked the judge to take in consideration Jayson was convicted in 2004 of 4 "cover up" charges related to the shooting.
UPDATE 10:11 AM ET: Christofi's sister just held up a photo of her brother, while a rep for the family stood up and said Jayson has never shown remorse over the shooting, and has never apologized to her family. The rep said Jayson should have to serve all five years without parole.

UPDATE 10:25 AM ET: Jayson's lawyer is up now. He's explaining about how hard Jayson's life has been ... including the deaths of his sisters from AIDS. He's also talking about Jayson's charity work and donations.
UPDATE 11:00 AM ET: Jayson just stood up and apologized to Christofi's family. He said he knows there's nothing he can do to bring him back. Jayson teared up, and apologized to his family, his church and the NBA.
UPDATE 11:03 AM ET: The judge is addressing Jayson directly. He thanks him for the apologies ... but said Jayson will pay the price for his actions.

UPDATE 11:15 AM ET: The judge just sentenced Jayson to 5 years in prison, with parole available after 18 months. Jayson has 45 days to appeal. Jayson was just taken out of the courtroom in handcuffs.