Dr. Phil & Oprah -- Help Octomom, Stat!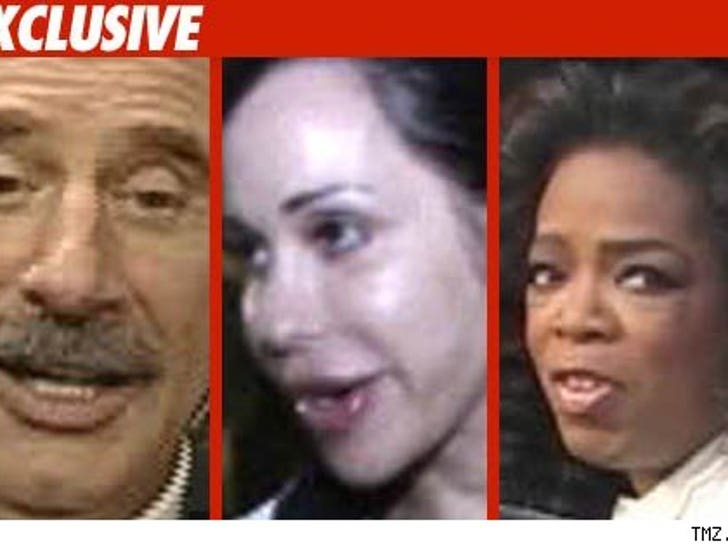 The guy who sold Octomom Nadya Suleman her La Habra house is now asking Dr. Phil and Oprah Winfrey to help pay off her loan so the crib doesn't go into foreclosure.
TMZ has obtained an email sent Saturday by seller Amer Haddadin to one of Dr. Phil's producers, asking the famous doc for help. According to the email, "Dr. Phil and Operah (sic) took personal interest in the steps that led to Nadia (sic) moving to the house. I have a hope that both Dr. Phil and Operah will help me in timely and fair solution."
You'll recall Dr. Phil and his people were all over the La Habra house before Octo moved in.
As we first reported, Octo is late making the $450,000 balloon payment to the seller and he'll initiate foreclosure proceedings if she doesn't pay by the end of the day tomorrow.
The seller's rep tells TMZ Octo's lawyer told him she shouldn't have to pay because the roof and plumbing are bad. And, her lawyer wants to mediate the mess -- not go through foreclosure.
No immediate word from Dr. Phil or Oprah.
UPDATE: According to the big O's rep, "Oprah has not financially assisted Ms. Suleman in the past and has no plans to do so in the future."
UPDATE 2: A rep for Dr. Phil tells us, "Dr Phil has no plans to become involved in the Suleman family's current situation."