Flight Attendants: Steven Slater Is Our Frickin' Hero!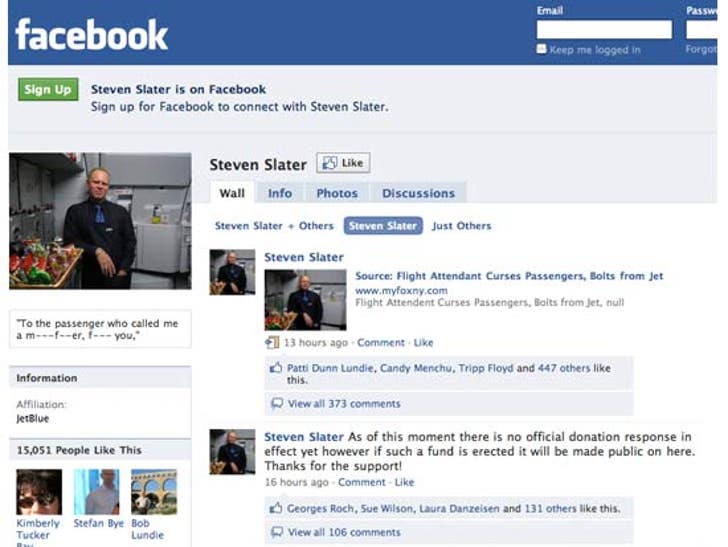 Flight attendants from airlines everywhere are rallying around JetBlue's most famous employee Steven Slater -- praising him for fighting "flight attendant abuse" and even building him a shrine ... on Facebook.
TMZ has learned someone created an FB fan page for Slater less than a day ago -- which already has more than 15,000 followers ... and continues to grow by the minute.
But the most interesting part is the comment section, which has been taken over by flight attendants across the country who wish they had the cojones to do what Slater did.
One user wrote, "We (flight attendants) secretly have thought about doing this.....you are my hero for taking a stand on flight attendant abuse!!!!"
And another -- "Kudos to you, I am a former flight attendant and only wish I had the nerve to do what you did!!!!!!" And yet another -- "As a former F/A, you made my fantasy come true--you just did what we have all thought about doing a thousand times! Good Luck to you! :)"
As we previously reported, Slater -- who told off a passenger on a JetBlue flight yesterday and then abandoned ship on the emergency chute -- is charged with two counts of reckless endangerment, two counts of criminal mischief and one count of criminal trespass. His bail is set at $2,500.