'Dora the Explorer' Actress -- Nickelodeon Lied to Me!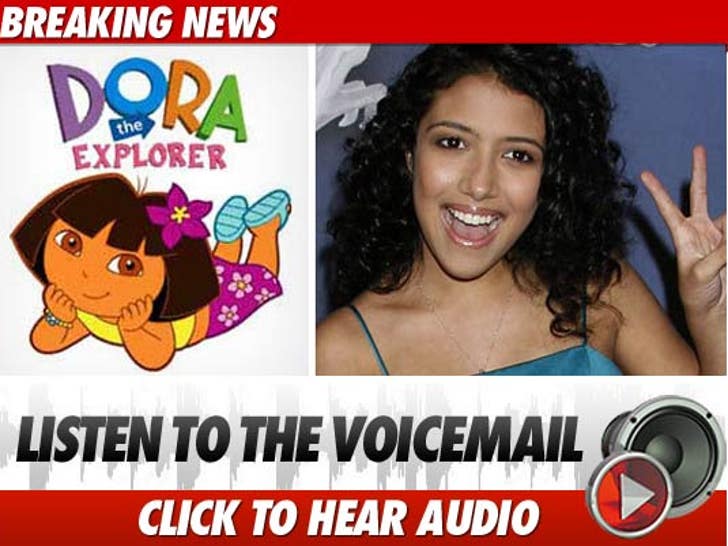 The little girl who voiced Dora on "Dora the Explorer" says she has audio proof that Nickelodeon bigwigs are lying to the press about why they fired her from the show ... claiming the puberty excuse is pure BS.
Nickelodeon claims they recently fired Caitlin Sanchez from "Dora" because "Caitlin's voice changed and she was no longer able to portray the Dora character."

But Caitlin's mom Hilda tells TMZ Nickelodeon's Vice President of Communications left her a voicemail in July, 2010 insisting the network wanted to continue using her daughter to voice Dora until 2012 ... and never hinted about a problem with Caitlin's voice.
In fact, in the recording, the exec tells Hilda, "We just wanted to reiterate to you ... that we are very excited about continuing to work with Caitlin."
The message continues, "She's the face and voice for the next, basically, two years ... we have no plans of making that any different."
After she was let go, Caitlin filed a lawsuit against Nick -- claiming they made her sign a bad deal in 2007, screwing her out of millions of dollars. Caitlin's mom believes Nick concocted the puberty excuse to "discredit" Caitlin's legal claims.
Sources connected to the dispute tell us, "Cailtin was notified on June 30 that she would no longer voice the character."
A rep for Nick tells us, "The conversation in question with the Nickelodeon press department was in specific reference to public and PR appearances. It was clearly not about portraying the voice of the character for the television show."
The rep adds, "The Nickelodeon statement we released last week is unquestionably accurate."