'Housewives' Table-Flipper -- Under the Gun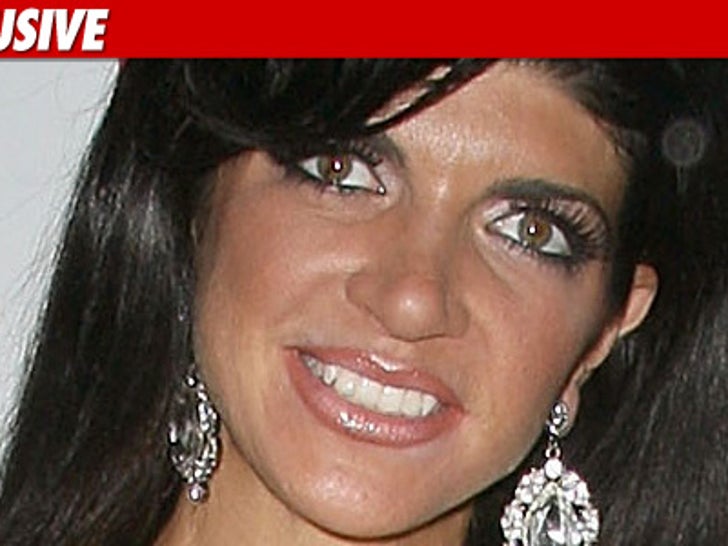 Teresa Giudice is on the verge of losing her spot on "The Real Housewives of New Jersey" -- TMZ has learned the reality star's money demands are holding up contract negotiations ... and Bravo is losing patience.
Sources close to Giudice tell TMZ, the table-flipping housewife feels like Bravo's giving her the short end of the stick ... because she's under the impression that the other women in the cast are earning significantly more money than she is. As we previously reported, Teresa wants double her salary from last season.
We're told Teresa -- who's famously dealt with money issues in the past -- is ready to walk if Bravo doesn't cough up the cash. Bravo insiders wouldn't comment on the current state of negotiations, but did say the network is looking at possible replacements.
We're told Teresa -- who's financial issues have been a major plot point on the show -- is the most adamant about the contract situation ... asking for a cut of the DVD and merchandise sales ... freedom to make more paid appearances ... and her salary DOUBLED.
A source extremely close to Teresa tells us, "She would like to be paid more equivalent to what the 'Jersey Shore' kids are getting" .... adding, "If she's not treated better by Bravo, she's ready to walk away."
FYI -- the "Jersey Shore" kids are reportedly pulling in around $30k per episode.
A rep for Bravo tells us they don't comment on contract negotiations.
As for the other girls -- we're told they're all a safe bet for next season ... minus Danielle, of course.
Brad & Angelina Lock Lips on Set!
Brad Pitt stopped by Angelina Jolie's set in Budapest again over the weekend -- where they shared a romantic kiss for the cameras!
As we previously reported, the Jolie-Pitt clan has relocated to Hungary while Angelina directs her first film in the area -- and the couple's kids will even be going to school there while she does.
Check out the cuddly pics!
Uma Thurman -- Powder Your Nose
Uma Thurman showed up to an event in NYC last night ... in white face.
Forget Bill, kill makeup artist.
Can you guess which Hollywood hottie was spotted wearing kitten heels and showing off these gorgeous gams in Beverley Hills yesterday?
Celebrity Pumpkin Carving Stencils -- Cut IT Out!
If you are feeling extra creative this Halloween season, download one of our free celebrity pumpkin carving stencils and give it a stab!
**Click through the gallery and download a PDF file of your favorite stencil -- trace the black parts of the stencil onto your pumpkin -- carefully cut out the black portions to reveal your perfect celeb carving!**
Junior Seau Drives SUV Off a Cliff, Survives
Junior Seau drove his SUV off a cliff in Carlsbad, CA this morning -- and survived -- this according to law enforcement.
We're told the retired NFL superstar sustained injuries in the wreck -- cops are on scene. TMZ obtained these photos of Seau's Cadillac Escalade which landed at the bottom of a cliff several feet from the beach.
Seau has been transported to a local hospital. The accident happened just south of Oceanside, CA ... where the former San Diego Charger had just been released from jail hours earlier.
As TMZ first reported, Junior Seau was arrested early this morning for domestic violence.
What's the Big Frigin' Difference?!
Grab your glasses and clean out your contacts 'cause these sneaky pictures have some seriously hidden differences... can you spot 'em?
**HINT -- There are THREE differenes in the above photo!**
Can you guess which Hollywood hottie got a nasty celebrity scramblin'?!