Tony Parker & Eva Longoria -- Table for Two Exes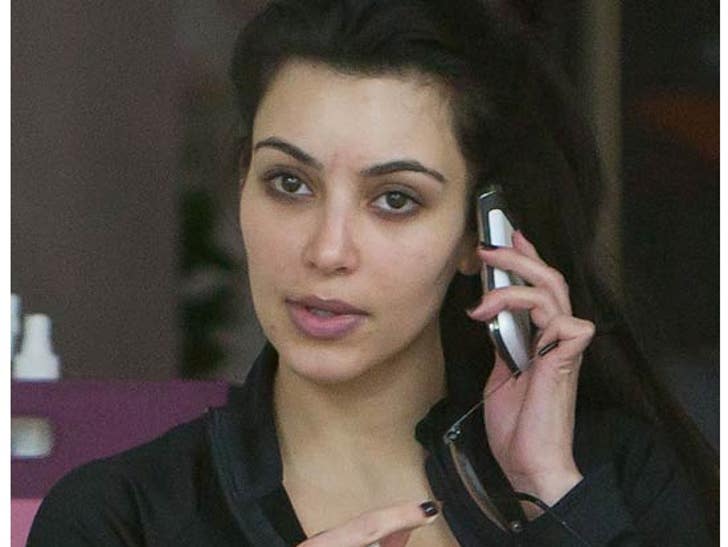 Tony Parker and Eva Longoria reunited for a lunch date in L.A. on Wednesday -- two weeks after she filed to divorce him in Cali ... which was followed by Tony's own filing in Texas. Awwwwkward.
They met on neutral ground ... at a hotel in the L.A. area. Tony was in town because his San Antonio Spurs played the Clippers last night -- but based on Eva's gestures and Tony's expressions ... we're guessing there was little hoops strategy discussed.
One of the things Tony and Eva are trying to work out -- where they're getting divorced. Eva filed legal papers in California and Tony followed suit days later in Texas. We're told Tony's lawyer was worried Eva might challenge the prenup and felt Texas was a friendlier forum for enforcing it.
So far there's no evidence Eva is challenging the prenup. Nevertheless, they'll have to figure out where the divorce will be handled before it can go forward.
Kim Kardashian Goes Au Naturel
Kim Kardashian took it all off ... her face.
The reality TV star was spotted getting her nails done at Beverly Hills Nail Design yesterday in L.A., where she still looked great despite her face being shy a few layers of makeup.
Kim was one of the stars who joined Alicia Keys' initiative yesterday to raise $1 million for Keep a Child Alive, pledging to stay off social networking sites like Twitter and Facebook until the money is raised.
So far the campaign has raised $160,000.
Guess Whose Darling Daughter!
Can you guess which celeb-mom was spotted out to lunch with her pretty pigtailed daughter?
Joe Jackson's Brazilian Babe Tour
While Papa Joe is technically in South America on a book tour, he's spending more time promoting his smooth moves.
What's the Big Frigin' Difference?!
Don't let these pictures fool you -- there are some serious differences just waiting to be spotted!
** HINT -- There are THREE differences in the above photo! **
Cameron & A-Rod Hose Each Other Off
Reunited lovebirds Cameron Diaz and Alex Rodriguez spent the holiday weekend cooling off their smokin' hot bods in Mexico.
Can you guess whose flawless face got a major mix up?
The Coolest Thing Kanye West Has Ever Done
Kanye West spent 90 minutes gift wrapping presents for foster kids today at a charity event in NYC -- but he didn't do it for the publicity ... he did it because he happened to be in the area and he felt like helping out.
Sources tell TMZ West was not scheduled to attend the New Yorkers for Children's 8th annual "Wrap to Rap" event at the Ainsworth in NYC ... but around 6:00 PM, he strolled right in and asked if he could help out.
We're told some people at the event asked West why he decided to roll in -- and Kanye explained he simply felt compelled to lend a hand because he believed it was a good cause.
Our sources say West cheerfully wrapped some of the 2,000 gifts that were donated by Wal-Mart ... and then quietly slipped out the back.
How's that for holiday spirit?