Sharon Stone -- I Have a Mentally Ill Stalker
Sharon Stone --
I Have a Mentally Ill Stalker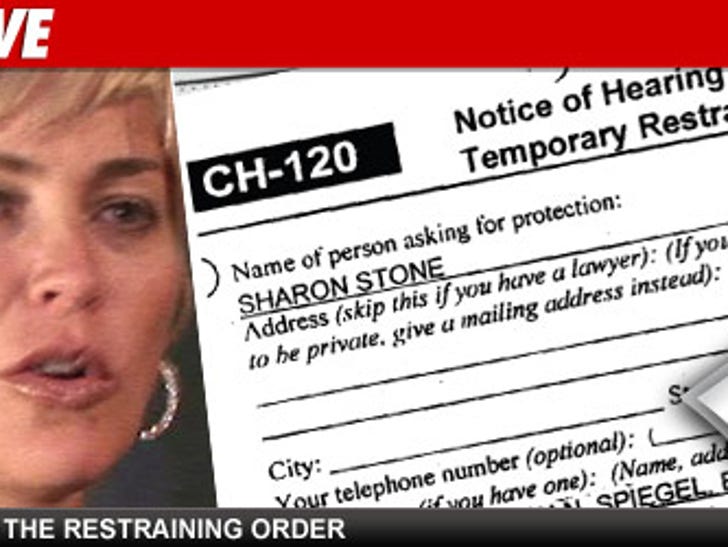 Sharon Stone has just obtained a restraining order against an "obsessed mentally unstable delusional person," after the man broke into her L..A. home and was lying in wait.
According to the docs obtained by TMZ, the man -- Bradly Gooden -- claims he's the son of Hillary Clinton and wrote "The King's Speech" when he was 2 years old.
Stone says, "I am in fear from Mr. Gooden for my personal safety, and that of those around me, including especially my children and family, as well as my friends and employees."
The break-in occurred on February 11. According to the docs, cops found Gooden inside Sharon's home. He told officers he had traveled from Ohio because he believes his mother -- Hillary Clinton -- bought him the house from Sharon Stone as a present.
Gooden told cops, "It's now my house ... I live here."
The docs say Gooden was placed on a psychiatric hold and released three days ago but he "seems undeterred from returning to the property."
A judge granted a temporary restraining order. The order prohibits Gooden from going within 100 yards of Stone or her children.
Stone had filed for a restraining order against an overzealous Italian man back in 1998 ... but eventually dropped the request after the man's family took him back to Italy.
UPDATE 3/9/11 -- The judge has extended the restraining order against Gooden ... which will now stay in effect for the next three years.