D.A. Gets Financial Help From Oksana's Lawyer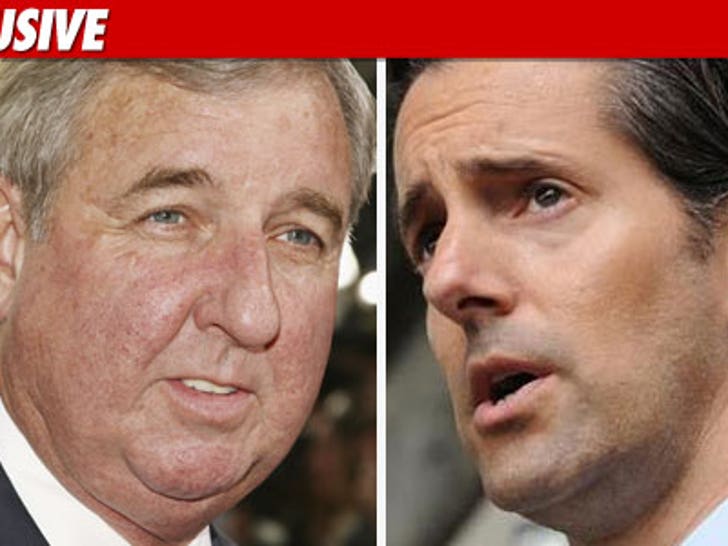 L.A. County District Attorney Steve Cooley -- whose office will soon decide the fate of Oksana Grigorieva and Mel Gibson -- attended 2 fundraisers on his own behalf at the home of the lawyer who negotiated Oksana's $15 million settlement ... which is the core of the extortion investigation.
TMZ has learned Eric George, a prominent Beverly Hills civil lawyer, hosted both campaign fundraisers last year, while the L.A. County Sheriff's Department was conducting its investigation.
And documents reveal ... George contributed more than $8,000 to Cooley in 2010 ... of that, George contributed $1,992 in August ... while the Sheriff's investigation of Oksana was going full bore ... we do know, however, George has had a long-standing friendship with Cooley and has made contributions to him in the past.
As TMZ first reported, George negotiated a $15 million package for Oksana during her mediation in May, 2010. Law enforcement sources tell us ... Sheriff's investigators believe there's "strong evidence " that Oksana extorted Mel by threatening to release the explosive tapes unless she got the money.
TMZ broke the story that the D.A.'s office disagrees with Sheriff's investigators and has all but decided not to prosecute Oksana, but we're told Mel Gibson will be charged with misdemeanor domestic violence.
And we've learned ... Cooley has been involved -- holding a meeting in his office in December to review the case, though a D.A. spokesperson says no decisions were made during that meeting.
There is grousing among some people in law enforcement -- especially in the Sheriff's Department -- that Cooley should have completely removed himself from the decision-making process given the fundraisers and contributions from George.
George had no comment to TMZ, but a Sheriff's spokesperson has told us the only person under investigation in the extortion matter is Oksana.
Although sources tell us the die has already been cast, a D.A. spokesperson tells TMZ ... prosecutors will make a filing decision "very soon" and Cooley likely will not participate -- because he's about to go on a long-standing, out-of-town vacation for a week and a half.
The spokesperson would not say whether Cooley would make the filing decision if he's back in town when his deputies make their recommendation.