D.A. On Verge Of Charging Mel Gibson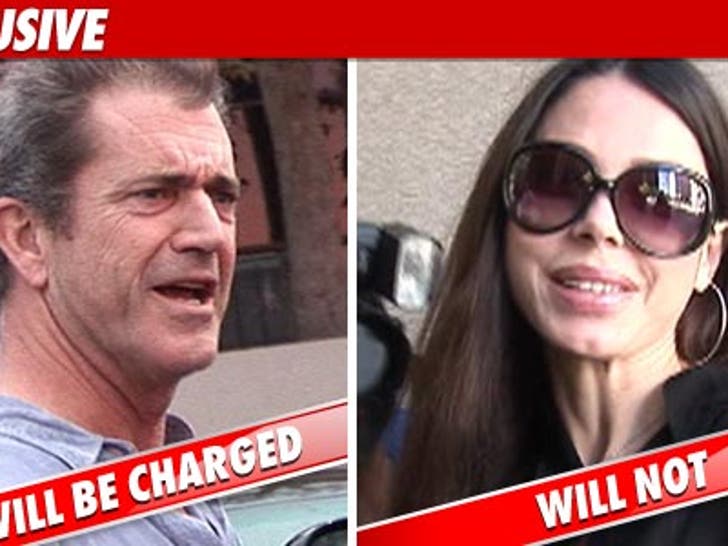 Sources connected with the Mel Gibson criminal investigation tell TMZ ... Gibson is about to be charged with domestic violence, but Oksana Grigorieva will not be charged with extortion.
Multiple sources say the die is not officially cast, but the powers that be think there's enough evidence to prosecute Mel, however not enough to prove beyond a reasonable doubt that Oksana extorted him -- notwithstanding that she demanded $15 million from him in return for keeping the tapes secret.
All of our sources say ... the turning point for prosecutors was the fact that prior to Oksana going to the Sheriff's Department and accusing Gibson of domestic violence, Mel's family law attorneys filed a declaration in the family law case, in which Mel admits to slapping Oksana -- he says because she was shaking baby Lucia wildly and feared Shaken Baby Syndrome.

We're told the likely charge against Mel will be misdemeanor domestic violence -- he will not be charged with a felony. Misdemeanor domestic violence carries a maximum penalty of six months in jail.
Sources say the extortion investigation has become a bone of contention between the D.A. and the L.A. County Sheriff's Department. We're told Sheriff's investigators believe there is sufficient evidence -- much of which has not been made public -- to prosecute Oksana, but the D.A. doesn't agree.
As for a timetable ... we're told the decision is expected in the next two weeks, and very possibly this week.