Celeb Chef -- Too Busy for 'Make-A-Wish' Kid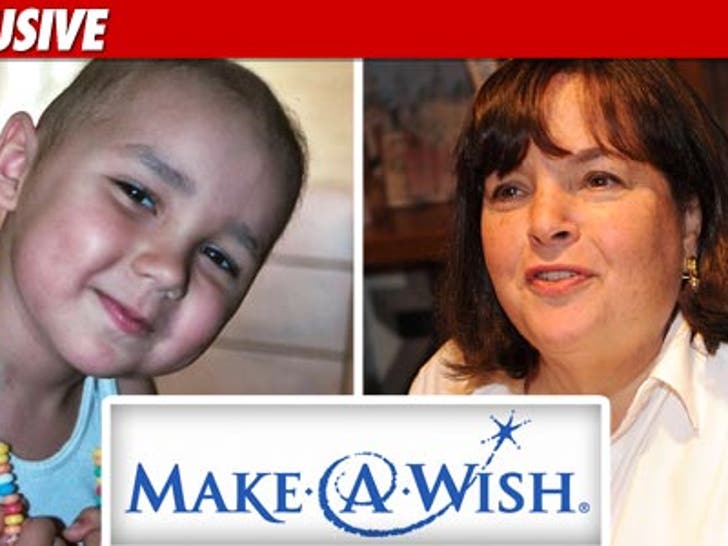 The Make-a-Wish Foundation had to break some bad news to a 6-year-old cancer patient this week ... when Food Network star Ina Garten informed them she was too busy to cook a meal with the boy ... TMZ has learned.
A family member involved with the Make-A-Wish foundation tells us ... a little boy named Enzo was approached by the organization after he was diagnosed with Acute Lymphoblastic Leukemia three years ago.
Enzo told Make-A-Wish ... he really wanted to cook with the "Barefoot Contessa" host because he would often watch the show with his mother while resting in bed.
M.A.W. approached Garten with the wish last year ... but at the time, she was unable to meet with Enzo due to a book tour. The organization urged Enzo to pick another wish, but he told them he wanted to wait until she becomes available.
We're told the organization went back to Ina this year ... but her team responded with a "definite no" ... once again, citing scheduling conflicts.
A member of Enzo's family says the 6-year-old is heartbroken ... and asked parents, "Why doesn't she want to meet me?"
When we called Make-A-Wish for comment on this story, they told us, "From time to time, planning for wishes doesn't turn out as originally envisioned, despite people's best intentions and efforts throughout the wish-granting process."
They noted that Ina is a "good friend" of the foundation.
A rep for Garten tells us, "Despite her demanding schedule, [Ina] participates and helps as many organizations as she can throughout the year, helping children and adults like Enzo with life threatening and compromising illnesses.
The rep continues, "Unfortunately, as much as she would like to, it's absolutely impossible for her to grant every request she receives."
We're told Enzo has now made a new wish -- he wants to swim with dolphins ... and he's already taking lessons to make his dream come true.