Charlie Sheen in Chicago -- The Blow-By-Blow
Charlie Sheen in Chicago
The Blow-By-Blow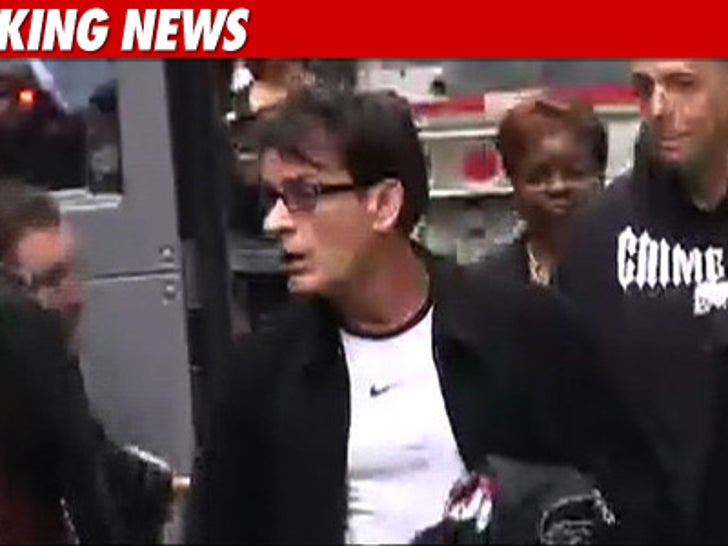 Charlie Sheen's Chicago show has ended -- and it was a definite improvement over Detroit. Read our live recap to see how it all went down.
8:15 PM -- No sign of Sheen yet.
8:20 PM -- The crowd just started a "Detroit sucks!" chant.
8:25 PM -- Charlie just read a poem about how much he hates Detroit.
8:27 PM -- Show definitely has a different feel than last night. Instead of Charlie on stage by himself, he has an interviewer of sorts asking him questions.
8:30 PM -- During a question about his marriages, Charlie referred to Brooke Mueller as "kidnapper bitch."
8:33 PM -- Charlie took off his shirt after someone in the crowd yelled, "Get naked." He traded shirts with a guy from the crowd who was much larger than him. Oh, forgot to mention -- after last night's performance, no opening comic this time.
8:42 PM -- Nothing too exciting. Telling stories, including the one about the first time he smoked weed ... with Chris Penn in Malibu.
8:50 PM -- The show is in intermission. Much more structured than last night's. So far, no booing.
9:14 PM -- And we're back! Sheen's got a fresh cig and talking about a party he went to once with Mick Jagger and Eddie Van Halen.
9:20 PM -- Charlie says he owes Heidi Fleiss $2 million. He tells the interviewer he pays for sex because he has millions.
9:25 PM -- Charlie says he was supposed to be in "The Karate Kid," but his dad told him to do a lesser movie instead. "My dad has great advice."

9:30 PM -- How's this for an about face -- Charlie said he would go back to "Two and Half Men," but he did say the people who run it are blood suckers. But he called Jon Cryer a "rock star."
9:45 PM -- Charlie is now reading a letter from one of the goddesses.
9:52 PM -- And with that letter ... the show is over. All in all, a much better experience than last night.