Charlie Sheen Tour -- Pauly D V.I.P. in Beantown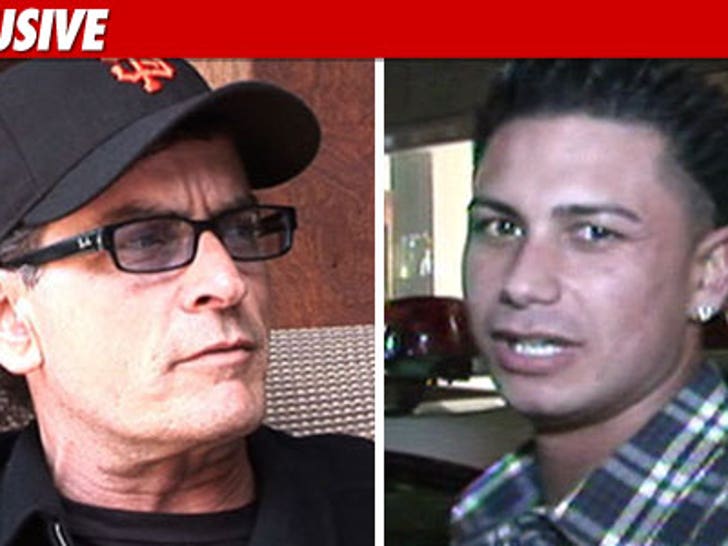 Charlie Sheen's Boston tour stop will have a bit o' Jersey -- and a whole lotta hair gel -- 'cause Pauly D will be in the house, TMZ has learned.
Sources connected to Charlie tell us the "Jersey Shore" star -- and Rhode Island native -- might even make a guest appearance on stage ... a la James Lipton in NYC.
We're told Charlie's pal Rob Patterson invited Pauly to hang -- they were snapped chillin' backstage tonight.
UPDATE 9:20 PM EDT: Pauly D is on stage (crowd loves it) and offers Charlie a role in his new spinoff reality show. Hey, Charlie could get a job out of this after all.
9:40 PM: Charlie says he was fired because producers of "Two and a Half Men" were jealous of him -- and then claims there's been progress in talks to get him back on the show.
That's NOT what our 'Men' sources are saying.
9:47 PM: Crowd is getting restless after about an hour. Our spies say many people are heading for the door.
9:57 PM: A few comments about hookers, and that "traitor" Heidi Fleiss ... and the audience has seen enough. We're told the crowd is pouring out.
9:58 PM: Charlie says, "One thing they can never take from me is the time we had here tonight." The show's over. No standing O ... in fact, very little applause at all.