Honda Spokesman -- I Got Screwed At Honda Dealer!!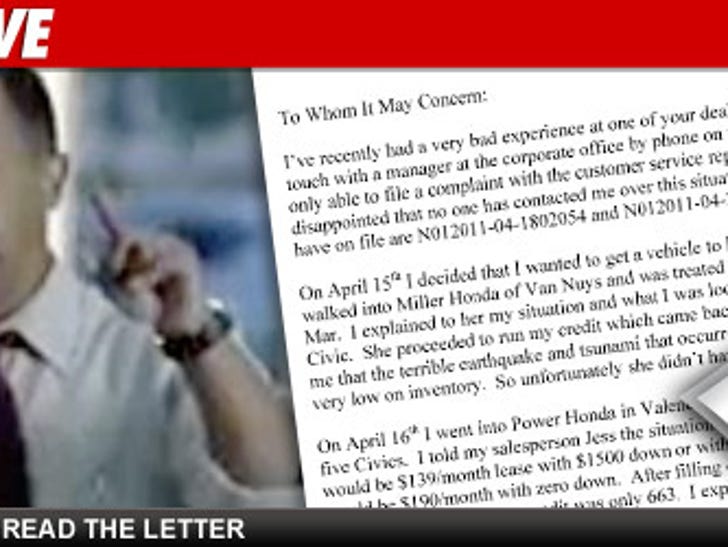 A man claims he got royally screwed at a Honda dealership ... the twist to this story -- he's the guy who pitches Hondas on TV.
Dennis Singletary tells TMZ he went to an L.A. Honda dealership in April to buy a 4-door Honda Civic and wanted the very same deal he pitches on national televsion -- "The Really Big Thing" ... which is 0% down, low finance rates and $190 a month payments.
Dennis qualified because his credit rate was a solid 709. Problem was -- the dealership didn't have the car he wanted. So Dennis trotted over to another dealership which DID have the car ... and that's where he endured a gross miscarriage of car justice.
Dennis claims the dealer wouldn't give him "The Really Big Thing," because according to the dealer his credit score was only 663.
Dennis protested to no avail. Finally, in frustration, Dennis called the first dealer -- put him on the speaker phone and asked him to repeat his credit score -- 709.
But the 2nd dealer was immovable -- sticking Dennis with the lower score.
Dennis finally pulled a, "Do you know who I am" ... left in a huff and fired off a letter to corporate ... saying, "How is it that I am dealing with such blatant dishonesty and unethical behavior from one of your dealerships, when my face was all over the TV promoting the very deal I wasn't able to get? If this is the way I am being treated how is everyone else being treated?"
In the end, Dennis went to yet another dealership ... and scored a great deal on a Honda with the terms he wanted.
Calls to Honda were not returned.