Lindsay Lohan Stumbles on First Night of Freedom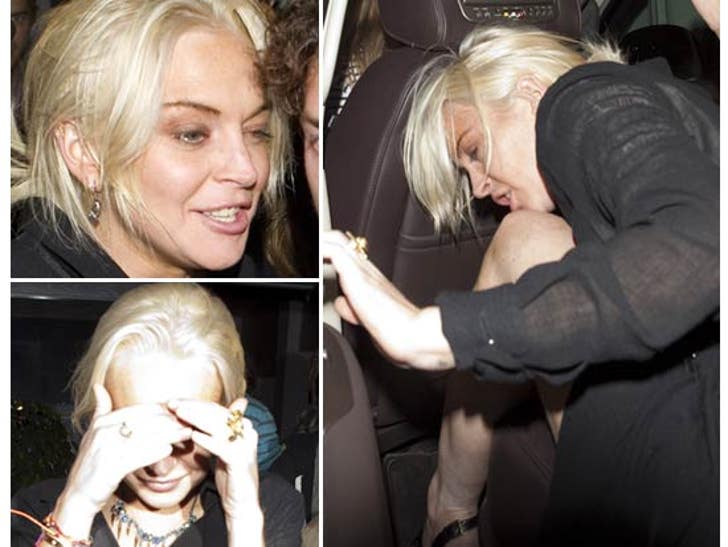 So much for Lindsay Lohan telling her friends she's afraid to go out.
Lindsay Lohan, who had said she was scared to leave home because of the paparazzi, went out to Lexington Social House last night -- where the paps were out in full force.
As she walked out with friends including "Into the Wild" star Emile Hirsch and "Nikita's" Lyndsy Fonseca, the flashes went wild -- causing Lindsay to block her face and nearly fall over on the curb as one photog shouted "She's drunk!"
As we previously reported, Lohan just completed 35 days in home confinement yesterday.
And she's telling friends, the reason she stumbled wasn't because of alcohol -- it was because her friend's husband jumped in front of her unexpectedly, and she tripped.
Lohan is adamant she did NOT drink last night ... and sources at the Social House tell us Lindsay was not served any booze.
Scott
I don't think she was drinking but I also think it is a poor choice to hang at bars, she is one temptaion away from ruining her life but she can't let go........
Kevin
Um, no people. She wasn't drunk. She stumbled because she couldn't see her way through the flashes. Dumb paps.
NobodySpecial
First night of freedom and she goes back to the life that got her in trouble. Stupid girl.
grandma cracker
Seriously Lindsay? Wow, just wow.
Rocco
Stupid photographer. She's drunk. Because she fell? Better stick to taking pictures, Detective Nobody.
ed
To all you people who just cannot take knowing there are successful, beautiful people in this world, (WHY? Because you are not either of those 2 things). But I digress. Fistly, she was not drunk. And secondly, she is ALLOWED to drink, (and just like the rest of us, she's not allowed to drive after drinkng). So, in conclusion, get a life people, because somebody already owns Lindsay's life. Her name is Lindsay! And you cannot be her!
ilovegossip
What the supporters don't get is that it's not just the "haters" that are watching what she does next... it's the studio execs, and the directors and the producers, etc. And this is what she's giving them. It doesn't matter if she tripped because of flash bulbs or because she was drunk. All that will be seen is her falling out of a club the first night she's off of house arrest. She just doesn't get it, and neither do her supporters.
Peter Sc
I would hire her regardless of how small a role she might be able to do. Even seconds of acting would put the movie on the frontpages of newspapers world over. You are doing her a huge favor following her around 24/7 observing no news at all.
Jay
I knew she wouldnt be scared of the paps she thrives on them, they are her life. I understand she has been cooped up inside and she probably just wanted to go out with her friend but if she is really wants to work on her image this wasnt the best move.