Situation's Dad APOLOGIZES for Exploiting Son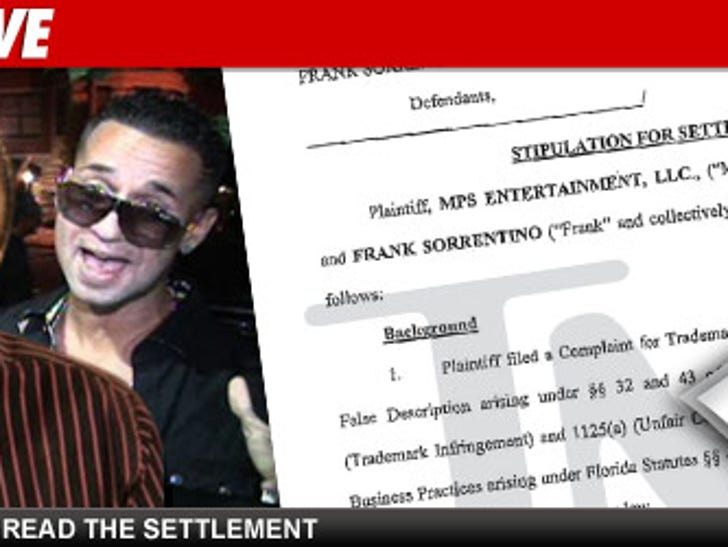 The Situation's dad has finally admitted that releasing those terrible videos about his son was a CRAPPY thing for a father to do ... and now, he's filed legal documents saying "I am sorry."
TMZ has learned ... Mike "The Situation" Sorrentino is dropping his lawsuit against his dad, Frank Sorrentino. Father and son filed legal docs asking the judge to dismiss the case. In the settlement ... Frank agrees to stop using the "Jersey Shore" star's name, image and likeness to make a buck.
And while Frank takes some of the blame for going on camera and trashing his kid -- Frank claims in the dismissal docs he's the real victim ... because he was exploited by a "con artist" named Robert Fletcher who wanted to reap the profits from the Sorrentino family feud.
Frank says Fletcher, his former publishing agent, was the driving force behind the website -- and concocted the plan to illegally exploit Mike's name and image.
UPDATE: We've learned there was a financial component to the settlement. We're told although the Situation's dad didn't have to pay any money, Fletcher had to cough up $5,000. Better than nothing.
In the docs, Frank says, "I regret getting involved with Robert Fletcher and I am sorry that I participated, to the detriment of my son Michael."
Frank says his anti-Situation website has already been shut down and he's willing to testify against Fletcher in court if need be.