TMZ Live: Justin Bieber -- FEAR of Milk & Pasta!!
TMZ Live
Justin Bieber
FEAR of Milk & Pasta!!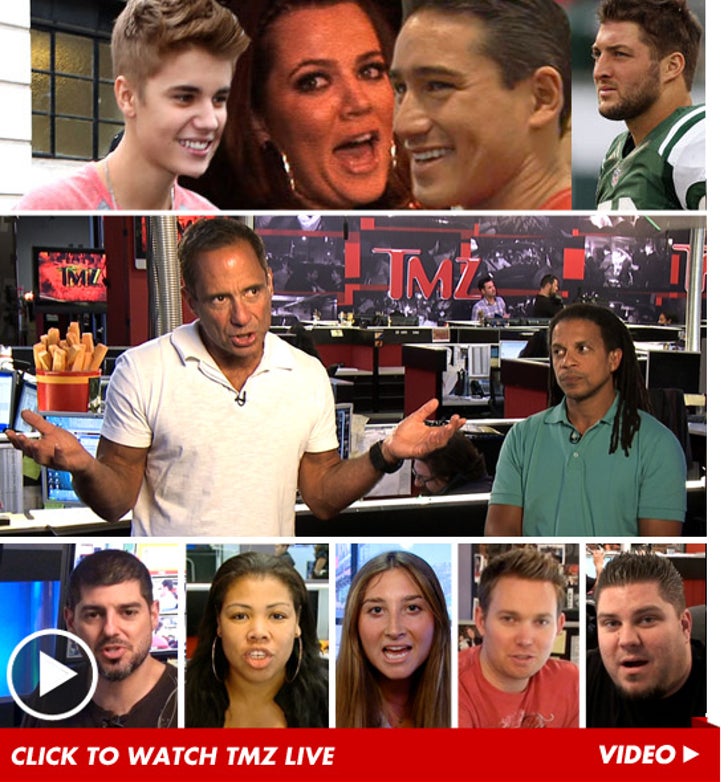 (0:00) Khloe Kardashian and Mario Lopez will be the next hosts on "X Factor" -- so the big questions ... who's gonna be the Dunkleman?
(5:10) Bow Wow is paying minimal child support to his baby mama -- because it looks like he pulled a fast one on the judge.
(10:00) Police video of Matt Barnes arrest has been released -- and in it, he throws around the f-word ... the homophobic one.
(14:00) Brittany Kerr's apology for hooking up with married country star Jason Aldean doesn't seem consistent with her claim that she didn't realize he was married.
(18:00) Justin Bieber is on the show! He calls in to explain why he threw up on stage, his emotional tribute to a fan who passed away, and Sean Kingston's claims that he gave away his Fisker Karma.
(25:00) Arnold Schwarzenegger's book is selling out in Kennedy central.
(27:10) Is it Tebow time in New York? Is Eva Longoria to blame for the Jets poor play?
(30:00) Should both spouses need to have a job for a relationship work? Nick Cannon has the answer.
(33:00) Halle Berry and Gabriel Aubry reunite at the pumpkin patch -- but Max thinks there's a diabolical plan behind it.
(37:00) Michael C. Hall and Max now have tattoos in the same place!
(38:20) Taylor Swift will NOT be playing a concert for a deaf school -- even though it won a contest to have her play there.
(40:00) We take your calls!