Jamal Anderson -- BLOG OF THRONES ... 'Don't F**k with Giants'
Jamal Anderson
BLOG OF THRONES
'Don't F**k with Giants'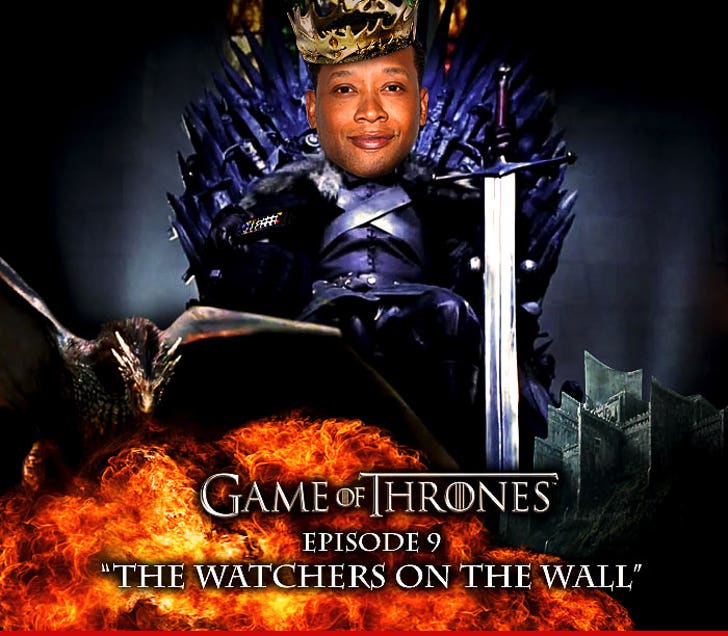 EXCLUSIVE
**WARNING -- THE FOLLOWING POST CONTAINS SERIOUS "GAME OF THRONES" SPOILERS ... GOOD ONES, TOO ... PROCEED WITH CAUTION** Atlanta Falcons great Jamal Anderson -- the creator of the Dirty Bird -- is a HARDCORE "Game of Thrones" fan ... like, borderline obsessed. So, when we asked him to put together a Monday morning "GoT" recap, dude was ALL ABOUT IT. Soooo ... without further ado, here's Jamal's breakdown of last night's ep "The Watchers on the Wall."
---------------------------------------------
"Night gathers, and now my watch begins. It shall not end until my death. I shall take no wife, hold no lands, father no children. I shall wear no crowns and win no glory. I shall live and die at my post. I am the sword in the darkness. I am the watcher on the walls. I am the shield that guards the realms of men. I pledge my life and honor to the Night's Watch, for this night and all the nights to come."
-- The Night's Watch Oath
How do you NOT love this show? Of course the writing is great ... the wide and wonderful array of characters. Fine, I'll give you those. But dragons! Giants! Mammoths! You never know which will appear each week, awesome!
What did we learn Sunday night? Don't f**k with giants.
You want death? You want gore? You want blood? Welcome to the battle of Castle Black. Conversations of life, last days, old loves permeate our characters minds as imminent death approaches. Since the begging of the season we have been building toward this battle. The massive Wildling army has marched toward Castle Black killing every person in its path.
Oh, but they were warned. John Snow tried to tell them what was coming on the first ep of the season ... when he stepped in front of the leaders at Castle Black laid out Mance Rayder's plan.
"While we sit here debating which rules I broke, Mance Rayder marches on the wall with an army of 100,000," Snow told the leaders ... "He's united the Thins, Hornfoots, Ice River clans, and he has giants fighting for him."
Now, the Wildling army is upon Castle Black. As preparations begin to defend the Castle from the realities that John Snow foretold. How about Sir Allister admitting John Snow was right. They should indeed have sealed the tunnel. Too late now, for as Mance Rayder declared, "The largest fire the North have ever seen" was blazing.
For 1,000 years Castle Black stood strong. War, as they say, brings out the best and worst in men. The siege at Castle Black was no different. But instead of a blow-by-blow recap of the crazy episode-long battle, let's discuss two main characters from this ep.
John Snow, one of my favorite characters, is of course noble, courageous, honorable. And lucky. Seriously, could Ned Stark have produced a more similar child? In a show where one should not get attached to characters, well....
Let's just say I always hope for the best for Lord Snow. He proved himself once again at this battle. One of the highlights of the episode was his one-on-one battle with the leader of the Thins. Dude was twice his size, and John literally put the hammer down on his a**! Is it weird that after the kill scene I kept hearing the song, "Place Hammer Don't Hurt Em" in my head???
Let me get back to these Thrones ... and Snow.
You had to know some sort of confrontation was coming with Ygritte, Snow's star-crossed lover. She had John in her sights -- it was a wrap, but like before she couldn't pull. And the hesitation got her killed. A painful goodbye to Ygritte ... clearly Snow still felt for her. See, the show has heart too. BTW -- Nice to have a humongous wolf on your side. Ghost is awesome!
How about Samwell Tarly?! Fat Sam has come along way from the cowering wimp we first met. I'm not saying he's a warrior, but he stepped up when things got tough. Of course, Sam has added incentive now that he is once again joined by the luckiest character on the show. If you were watching the episode closely, you'll notice Gilly and lil Sam sneaking past the Wildling encampment.
It took an entire season, but Sam finally got a kiss! Is more in store for Sam and Gilly? You couldn't pick a worse place for a happy union, the siege at a Castle Black has just begun.
A bloody first battle at Castle Black! But as John Snow walked out of the tunnel, you had to wonder ... when is the second attack coming. And will Snow be around to help?
A few things you should be asking yourself. Why have tribes who live apart -- and are usually at each other's throats -- joined together? Why have those tribes of Wildlings started marching South after all of these years?
One episode remains this season -- it's gonna be a doozy!