Ex-Super Bowl Champ Robert Jones -- Suspect In Police Investigation ... Allegedly Tried to Hire Hit Man [Update]
Ex-Super Bowl Champ
Suspect In Police Investigation
Allegedly Tried to Hire Hit Man [Update]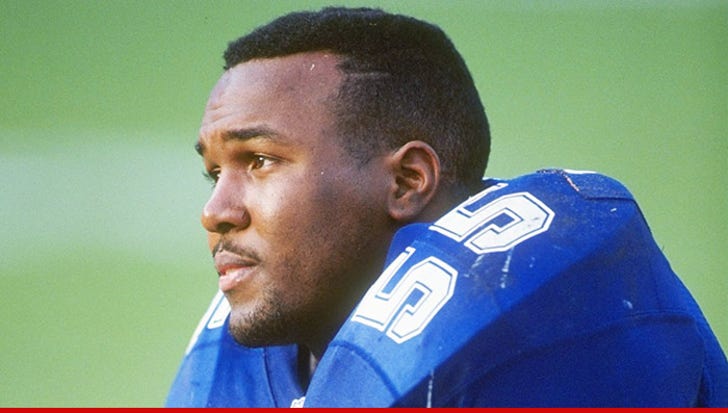 EXCLUSIVE
8:21 AM PT -- Jones says the hit man allegations are complete B.S. -- and insists he's got a great relationship with his agent.
The former NFL star just issued a statement saying the accuser -- a distant relative -- "has filed a false police report" ... and that he "absolutely denies" all allegations.
Jones says he plans on taking legal action of his own against Theodore -- and says the guy has "recently been attempting to extort money" from him and his family.
As far as the allegation that he tried to hire a hit man to take out his agent, Jones says the two have a "wonderful relationship" and the notion that he wants him dead is completely false.

A former Dallas Cowboys linebacker has been named the primary suspect in a police investigation in Cleveland after allegedly trying to hire a hit man to take out his agent ... this according to a police report obtained by TMZ Sports.
The man at the center of the case is Robert Jones -- a 1st round pick in the '92 NFL Draft who went on to become a Pro Bowler who won 3 Super Bowls with the Cowboys.
According to the document, a 47-year-old man named Theodore told police that Jones approached him and tried to hire Theo to take out Jones' agent.
Theo told cops he refused -- and Jones (who's also 47-years-old) -- responded by saying he is a "gangster" and he would make Theodore "disappear."
Theodore told cops he's afraid and fears for his personal safety because he believes Jones will make good on his threat.
So far, Jones has NOT been arrested or charged with a crime. We reached out to Jones several times for comment -- so far, no word back.