Aaron Hernandez -- I'M IN DANGER ... I Fear Retribution from Jail Staff
Aaron Hernandez
I'M IN DANGER
I Fear Retribution from Jail Staff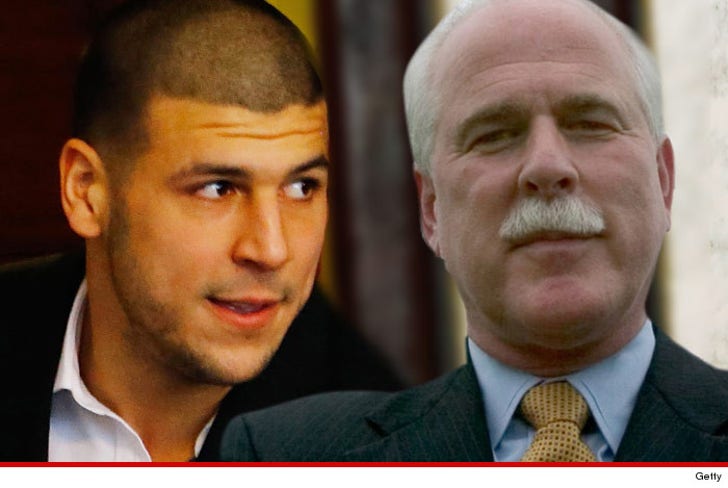 Exclusive Details
Aaron Hernadez believes he's NOT SAFE inside Bristol County Jail ... claiming jail officers could be out to harm him ... and he's begging a judge to move him to another jail, STAT.
The former New England Patriots tight end just filed documents with the court asking to transfer to a jail located closer to Boston ... and his explanation for the request is very interesting.
In the docs, Hernandez notes that he's been accused of threatening to kill a corrections officer -- an allegation he denies -- but says he now fears possible retribution from jail staff at Bristol County.
"Surely, there is now reason to be seriously concerned about Hernandez's personal safety while housed at the Bristol County HOC and to question the ability of that facility's staff to treat Hernandez fairly and professionally while he is subject to their total control."
Aaron adds, "This dynamic is simply untenable."
In the docs, Hernandez also calls Bristol County Sheriff Thomas Hodgson a media whore -- who has been relentlessly exploiting Hernandez for "self-promotion and virtually non-stop publciity of every imaginable kind."
He claims Hodgson's actions are "poisoning the jury pool" -- and the only way to stop it is to move AH to another jail where "professional correctional standards are adhered to."
We spoke to Sheriff Hodgson who says Hernandez is full of crap -- "I have a staff that is very professional. They understand they're dealing with a high-profile person and go the extra mile to ensure his safety, and other inmates' safety."
Hodgson adds, "I'm VERY comfortable with how we've conducted ourselves."
We asked if his feelings would be hurt if the judge decided to transfer Hernandez -- and Hodgson simply responded, "Absolutely not."
The judge has yet to rule on Aaron's request. Stay tuned ...