Hot Mug Shot Guy's Mom Comes to His Defense -- He's No Gangster!
Dreamy McMug Shot
Mom Comes to His Defense
He's No Gangster!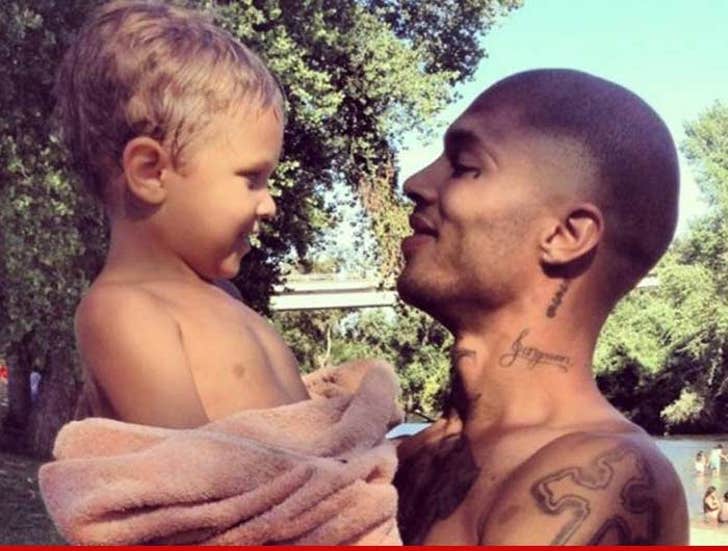 EXCLUSIVE
Jeremy Meeks -- aka Dreamy McMug Shot -- for sure does one thing well ... he makes good kids, and has a very loyal mom who says McMug is being stereotyped because of his old tattoos.
Meeks is currently being held on $900,000 bail for illegally possessing firearms and ammo, carrying a loaded firearm in public and criminal street gang activity.
His mother, Katherine Angier, is trying to raise money for bail using the website GoFundMe. She wrote, "Please help. My son was taken into custody on his way to work. He is a working man with a son. He is being stereotyped due to old tattoos."
She added, "He's my son and he is so sweet. Please help him to get a fair trial or else he'll be railroaded."
McMug's sister tells TMZ ... the only reason he carries guns is because he used to be in a gang and needs to protect himself. And she says, he's been a practicing Christian for 7 years.
The D.A.'s office says Meeks is a known member of the Northside Gangster Crips ... which is why gang charges were also filed against him.
Angier is hoping to raise $25,000 for her son's bail ... but as of this posting, she's only received $238.
The kid is 3 years old. The mother is McMug's wife. They have been married for 4 years.
Check out the gallery below of a few shots of Jeremy through the years. Let's just say ... a haircut did the man wonders!