NFL's Jordan Cameron -- NFL Blocks Pro Bowler from Poker Tourney
NFL's Jordan Cameron
NFL Blocks Pro Bowler
from Poker Tourney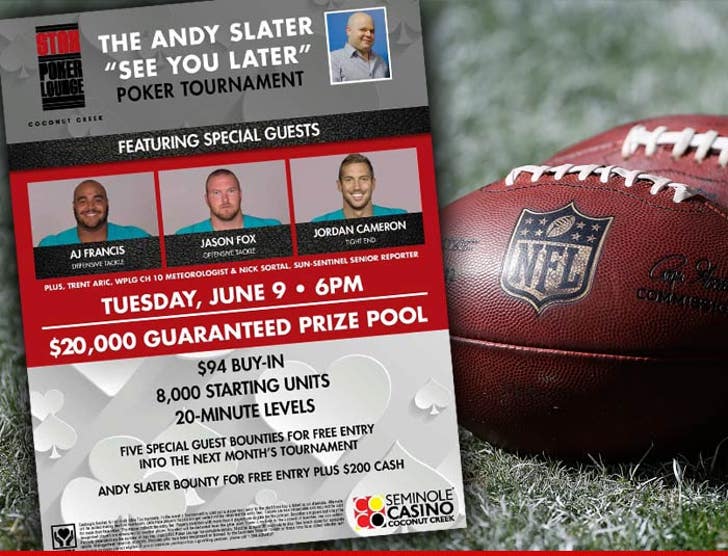 EXCLUSIVE
Several Miami Dolphins football players -- including Pro Bowl tight end Jordan Cameron -- pulled out of a poker tournament in Florida at the last minute after the NFL stepped in ... and organizers are pissed.
The players AJ Francis (DT) Jason Fox (DT) and Jordan Cameron had already signed on to participate in the "Andy Slater See You Later Poker Tournament" at the Seminole Casino in Coconut Creek on June 9th ... when they were contacted by reps from the NFL.
"The players told me they were advised the couldn't play," organizer Andy Slater tells TMZ Sports ... "The league did then contacted me directly and said their planned participation is not permissible."
Francis, who we're told was very upset with the situation, tweeted out ... "Sorry anybody who wanted to come to the Poker Tournament tomorrow and play with Dolphins players. Can't go anymore."
We reached out to the NFL ... and a rep told us, "There is a long standing policy that prohibits players -- or any league personnel --from appearing at an event in a casino."
The event cancellation comes in the wake of a controversy surrounding Tony Romo's fantasy football convention in Vegas -- another event the NFL says players are not permitted to attend.
We asked the league about that ... and were told the location was a problem because it was set to go down at a casino property ... which violated league policy.