Tiger Woods Wins First Pro Golf Tournament Since 2013
Tiger Woods
Wins 1st Pro Golf Tournament
... Since 2013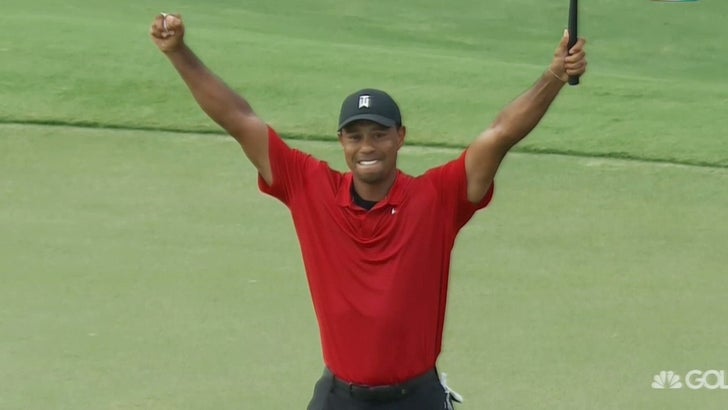 NBC
Tiger Woods' 5-year golf tournament drought is OVER -- 'cause he just won his first PGA Tour since 2013 ... and he did it in glorious fashion.
Tiger came out on top Sunday during the PGA Tour Championship at East Lake Golf Course in Georgia, where he finished 11 under par ... and 2 strokes ahead of Billy Horschel, who came in 2nd.
The final hole was crazy ... a massive crowd of spectators followed Tiger as he approached the green and hit his way out of a sand trap. He had a chance for birdie, but had to settle for par after he missed the hole by mere centimeters. It got the job done though ... and people lost it.
During his exit interview where he was asked what he proved to himself, Tiger said ... "It was just a grind out there, and I loved every bit of it." He went on to say about his return to form ... "At the beginning of the year, certainly, that was a tall order. But as the year progressed, and I proved that I could play, I found a swing and put pieces together. And, I knew I could do it again."
His interview was interrupted by a massive "TIGER" chant behind him, and it nearly moved TW to tears. At win #80 ... we'll say the comeback is complete.