George W. Bush Breaks Down Eulogizing His Father, Pres. George H.W. Bush
George H.W. Bush
George W. Bush Breaks Down
Eulogizing Dad at State Funeral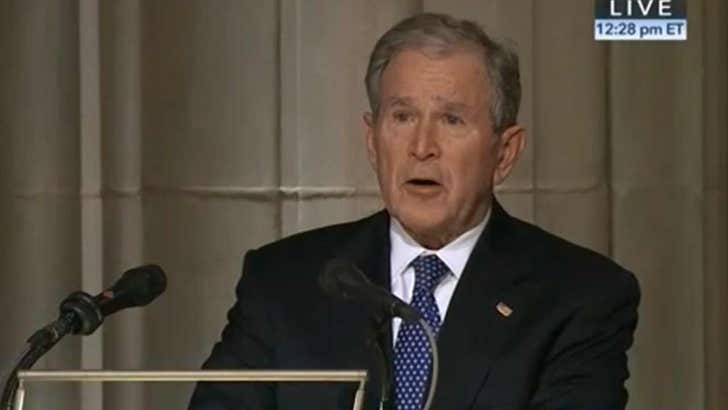 C-SPAN
George H.W. Bush's state funeral just wrapped up at the National Cathedral in Washington, D.C. ... where his son -- 43rd President George W. Bush -- was brought to tears eulogizing his late father and former POTUS.
Dubya delivered an incredibly emotional tribute to his dad, which ended with him choking up and having to step back from the lectern. It was a powerful moment, and fellow mourners gave 43 a big round of applause as he went back to his seat.
Presidential funerals are always extraordinary for the rare gathering of ex-Presidents. Trump, Obama, Clinton and Carter are all there ... and seated RIGHT next to each other.
Trump's attendance was not initially a lock, but he reportedly decided to attend after discussions with the Bush family, and getting assurances he wouldn't be bad-mouthed. Interesting to note, this is the first time Hillary Clinton and Trump will be in the same space since the election.
Also, Michelle Obama wrote in her new book she would never forgive Donald Trump for sparking the birther movement. Sooo ... tense moments.
The former President's body has been lying in State at the Capitol since Monday ... and a steady stream of dignitaries, politicians and celebrities have shown up to pay respects.