Tyreek Hill Gives Up Insane Catch To 10th Grader at Football Camp, Unreal Video!
NFL's Tyreek Hill
Gives Up Insane Catch To 10th Grader
... Unreal Video
3:02 PM PT -- 15-year-old Tyreeq-Styles Obichere spoke with TMZ Sports about the incredible catch ... and he tells us it was a SUPER special moment for him -- 'cause Hill is his favorite NFL receiver.
"Me and him, I feel like we run the same," Tyreeq said. "We're both short, but, like, we move pretty fast for other people."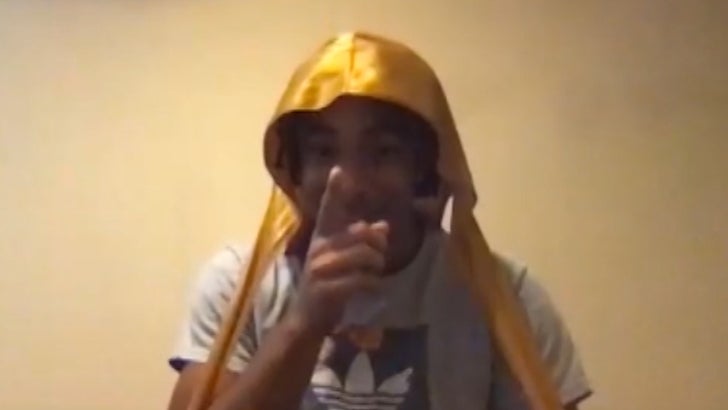 TMZSports.com
In fact, Tyreeq tells us his mom signed him up for the camp specifically because he admires Hill's game so much!!
As for the highlight, Tyreeq says he never got the chance to break down the play with the Chiefs wideout, but he did have a message for the speedster ...
"I will see him again," Tyreeq said. "I will see him again."
By the way, Tyreeq said he clocked a blazing 4.5 40-yard dash at the camp ... and said he's now starting to get interest from Arizona State after the play went viral.
A high schooler made one of the most insane catches over NFL superstar Tyreek Hill at a football camp this past weekend ... and the video of the play is ABSURD!!!
Here's the deal ... Hill was holding a youth football workout on Saturday in Round Rock, Texas -- when he decided to have a little fun with the youngsters.
He played receiver and caught some passes ... but when he flipped around to defensive back -- he got put on a poster that would have made Randy Moss proud!!
Waiting for your permission to load the Instagram Media.
Tyreeq-Styles Obichere -- a Texas high school football player who's going into the 10th grade -- routed up Tyreek, and when the ball arrived -- he snatched it from the Chiefs star with one hand. ONE HAND!!
Hill gave the kid props on Twitter on Monday ... writing, "Now I see what it feels like to get snagged on, serious note though amazing grab keep that same energy future phenom cause next time I'm bring breeland to hold you."
Moss -- the king of highlight catches -- even chimed in on the play, writing on his social media, "Ohhh no he didnt....ohhh yes he did!MOSSED em!could this be week 1 edition? MOSSED"
Originally published -- 1:18 PM PT