Britney Spears & Elton John Drop 'Hold Me Closer' Shoots to #1 in 35 Countries
Britney Spears & Elton John
'Hold Me Closer' Rockets to #1
... Incredible Comeback for Britney
9:51 AM PT -- Elton just posted about the track, saying, "I'm thrilled with the response to Hold Me Closer. I wanted to do a fun, happy summer track so was ecstatic when Britney Spears agreed to be a part of it! She truly is an icon, one of the all-time great pop stars & I love her dearly. I hope you all love it!"
Britney Spears has made one of the most remarkable comebacks ever in music ... exactly one year ago she was locked in a contentious conservatorship -- one year later she's shot to the top of the music charts in spectacular fashion.
Britney's collab with Elton John -- "Hold Me Closer" dropped Friday and immediately shot to #1 on iTunes in the U.S. The song is #1 in 35 countries, including England.
Britney shared her feelings about the release on Twitter and said, "Okie dokie … my first song in 6 years 🎶 !!!! It's pretty damn cool that I'm singing with one of the most classic men of our time … @eltonofficial 🚀!!!! I'm kinda overwhelmed… it's a big deal to me !!!"
It's also a brilliant move on Elton's part ... as you know, he released "Cold Heart - PNAU Remix" with Dua Lipa a year ago which was also a monster hit. He's found a way to take some of his amazing songs and put a spin on them with younger artists, and it's clearly working.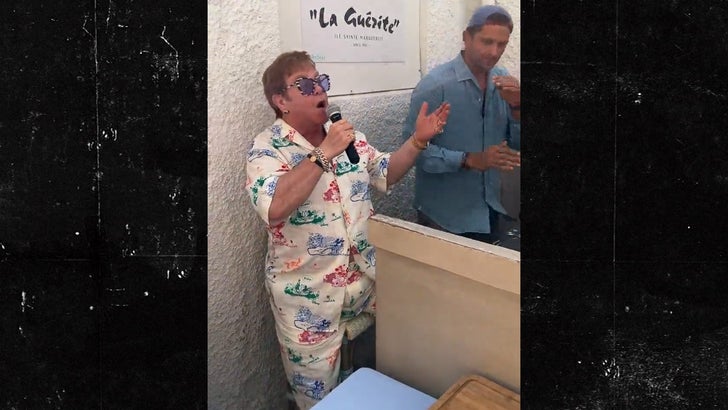 8/23/22
Sources with direct knowledge of the process of making "Hold Me Closer" tell TMZ, Britney was "all over the song," heavily involved in the sound and the mixing. There was a little drama during the post-production, but all worked out.
Britney's conservatorship lawyer, Mathew Rosengart, tells TMZ, "It's been a privilege working with her. She's been thorough a lot. Regardless of what comes next for her and what she chooses, I am so very proud of her."
Originally Published -- 6:18 AM PT