President Biden Says He Hasn't Had Occasion to Visit East Palestine
President Biden
Hasn't Had 'Occasion' to Visit East Palestine ...
Amid Glaring Vacay Record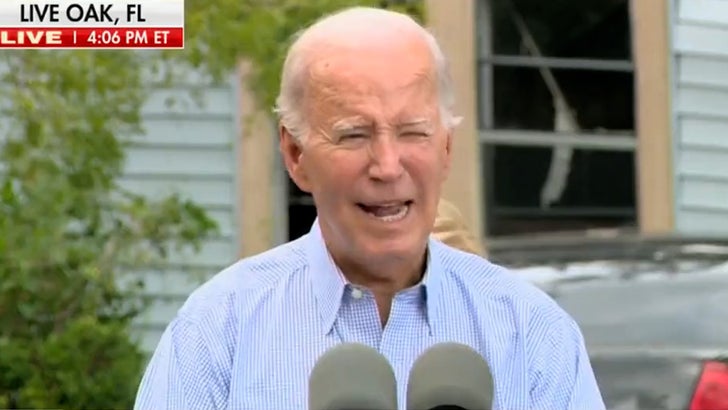 Fox News
President Biden says he hasn't a chance to visit East Palestine -- where a disastrous train derailment occurred -- but his critics say ... that's BS, seeing how often he vacations.
Joe was in Florida Saturday surveying the damage left behind by Hurricane Idalia, and while he was talking to the media ... one reporter asked him about an awful event from months ago -- bringing up the Ohio city and wondering why POTUS hasn't gone to see it.
Of course, the journo noted that the Prez explicitly said he'd get around to it at some point -- but as of now, he has yet to make an in-person appearance in East Palestine ... and now, months later, there doesn't seem to be any indication he plans to in the near future either.
JB's response to this is getting roasted -- he says he hasn't occasion to go visit East Palestine, arguing that he's been too busy with all the engagements he's had to attend to ... including some overseas.
President Biden even said he was considering going to East Palestine this week -- but adds he was reminded he has elsewhere to be. Joe finished by saying he'd made sure the people of East Palestine had what they needed to recover ... but even that is being questioned.
Some of the scrutiny he's facing here has to do with his track record on vacation days since he's been in office -- and there's been many ... upwards of 40% of his presidency, in fact, is said to have been spent away from the White House/on overnight stays out of D.C.
We've seen a lot of this for ourselves these past few months ... the dude has been hitting the beach a ton this summer -- especially out in Delaware, where he has a summer home.
There've also been quite a few bike rides Joe's gone on since being sworn in, and just last week ... he was out in Lake Tahoe. And yes -- he goes to Camp David a lot too with his fam -- and the record is starting to stack up against him, as far as his haters are concerned.
Donald Trump spent much of his presidency on the links, but now -- it appears Joe is outpacing him with these getaways ... and with moments like these, it's sure to be a focal point ahead of 2024.