TMZ digs up the answers to your burning questions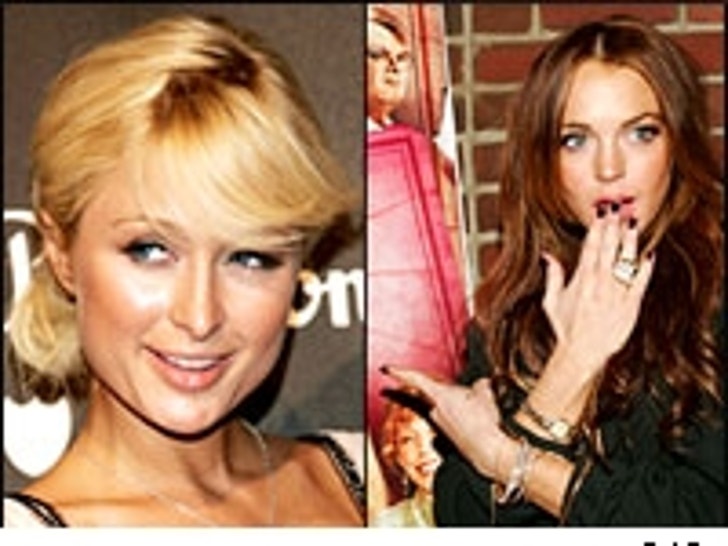 We asked fans what they JUST GOTTA KNOW... and we went looking for the scoop. Check out the answers to your burning questions!
1) Linda Has Just GOTTA KNOW: Why does Paris hate Lindsay?
The spat began back on May 15th when sources say Paris became upset after Lindsay used her name during her 'Just My Luck' publicity campaign -- assuming Paris' name would help promotion. And just two days later, Paris was spotted egging friend Brandon Davis on as he went on ranting about Lindsay. But recently, it seems as if these two drama queens have ironed out their issues and put their problems behind them. For the whole story, check this out.
2) Kristie Has Just GOTTA KNOW: What's going on with Jake Gyllenhaal?
He is currently in production for a film set for release next year called 'Zodiac,' a dramatic thriller based on real-life events in the 1970's. In this flick, investigators and reporters become obsessed with tracking down the San Francisco Bay Area serial killer who terrorized the city and whose identity author Robert Graysmith, played by Gyllenhaal, claims to know. The plot follows Gyllenhall on the trail of the anonymous killer as he strategically releases cryptic messages. Check out a previous TMZ article in which Gyllenhaal's diversity as an actor is examined. Take a look!
3) Stacy Has Just GOTTA KNOW: I haven't heard from Fantasia lately. What's new with her?
America's third 'Idol' Fantasia Barrino is currently in studio preparing for an early fall album release. Since her victory on the show, Fantasia put out her debut album, 'Free Yourself,' featuring the songs 'I Believe,' 'This is Me' and 'Summertime.' And, as announced back in May, Fantasia will be starring in a Lifetime Original Movie as herself. Based on her memoir, 'Life Is Not a Fairy Tale,' the movie will hit the small screen in August. Click here for photos of Fantasia and past Idols.