EXCLUSIVE: Super ($200 Million) Man or Else?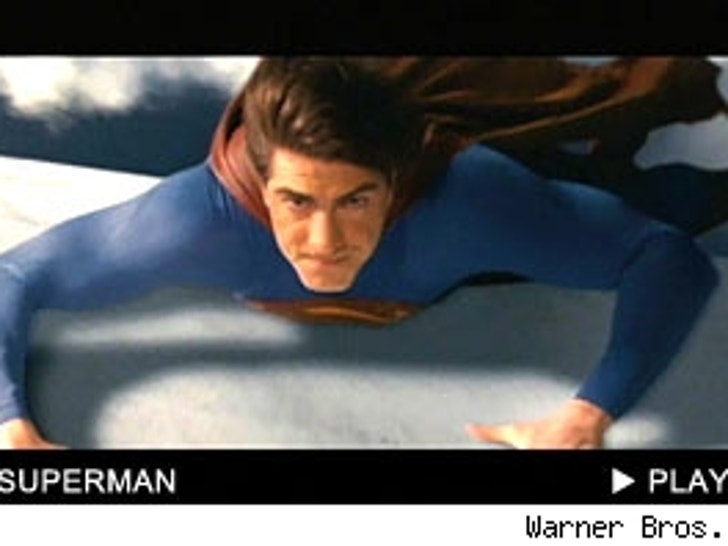 At least, not at Warner Bros. Pictures. After a $225 million "Pirates of the Caribbean" sailed into port, taking the wind out of "Superman Returns'" $205 million Spandex, Warner Bros. executives are said to be circumspect as to whether the Man of Steel will fly again.
Talent agency insiders with ties to the film tell TMZ that Warner Bros. Pictures president and COO Alan Horn has informed agents that a sequel hinges on whether grosses of "Superman Returns" can crest the $200 million mark domestically. What's more, the studio plans to shave millions - many millions - off any "Superman" sequel's budget. (Amusingly, in the current "Superman Returns," Lois Lane pleads with Lex Luthor, "But millions will die! " It turns out she was right on the money.)
As Variety's box office guru Ben Fritz noted last July 4th, "Superman Returns is off to a strong start, albeit not as fast as a speeding bullet. Warner Bros. superhero tent pole grossed a solid $52.5 million on its opening weekend and $74 million over the five-day Fourth of July frame. Since its Wednesday opening, the Bryan Singer-helmed franchise restart has taken in $106 million."
Talent agency insiders, speaking on the condition of anonymity, insist that Horn is so concerned about being burned financially by ionospheric "Superman" special effects costs that any sequel's budget would cost far less than Bryan Singer's quarter billion dollar baby: a meager $150 million. That's a whopping $35 million less than its predecessor was green lit at, and roughly $55 million less than "Superman Returns" alleged final negative cost. So much for a getting a raise.
However, no one could blame Horn for being cautious. Despite opening at No. 1 in all its territories, overseas, the Man of Steel is starting to look just a bit rusty. The just-ended World Cup meant that Warner Bros. took a pass on European and Latin American territories, and its second weekend in release overseas, "Superman Returns" dipped 55% to take in $9 million from 1,800 prints in 14 markets.
We're bracing to hear how director Bryan Singer will react to this newfound fiscal restraint.
Says one executive involved in the production and financing of "Superman Returns," "They can try and spin it as 'There are certain economies of scale that come from the making of the first one, blah blah blah. But the reality is, it's harder to play in a smaller sandbox and still push the envelope."
Calls place to Horn were not returned, and a studio spokeswoman declined to comment on the fiscal retrenchment.