Waits Twins Reunited For Wynn's Tryst
Two of Vegas' leading nightlife operators have reunited to make the nightclub Tryst at the Wynn Las Vegas perhaps the most buzzed-about nightclub on the Strip, and what's even more appealing about their story is that, even in the cutthroat and often downright nasty world of Vegas club land, Cy and Jesse Waits have managed to keep it in the family -- they're twins.
The brothers Waits landed in Vegas from southern California in the late '90s and cut their nightlife-impresario teeth helping to amp up the profile of the House of Blues; they made "Thursday Night Fever" and "House of Blues Sundays" two of the hottest parties in a town where rambunctious parties aren't exactly scarce. The pair parted ways in 2001 to take on separate assignments; eventually, Cy became the GM at Tabu Ultra Lounge and Jesse took the same job at Drai's After Hours, one of Vegas' most unrelentingly popular celeb-boîtes.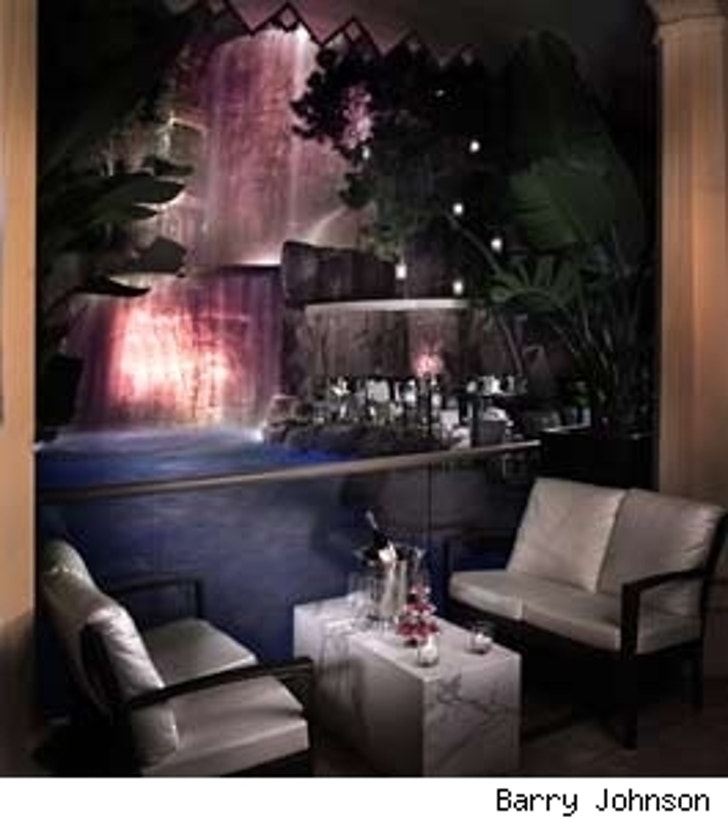 Then hotelier Steve Wynn brought the well-connected Victor Drai on to take over operations at his hotel's club La Bete with an aim to transforming the troubled spot, and thereupon Drai hired Cy and Jesse to bring the club up to Wynn's famously exacting standards. And by any standard, they've done well: The club has become, almost from the time it opened earlier this year, a regular stop for a glittering panoply of celebs, from the Hiltons to Jessica Simpson to Usher to Jay-Z, all of whom enjoy the beautiful-people treatment in the VIP area (pictured right).
And, finally, the guys seems to be enjoying the fruits of their labors. Even their parents' friends, as they tell us here sitting in front of the club's signature 90-foot cascade, are giving them props back home.