Inside Angelina, Jen and Tori's Stockings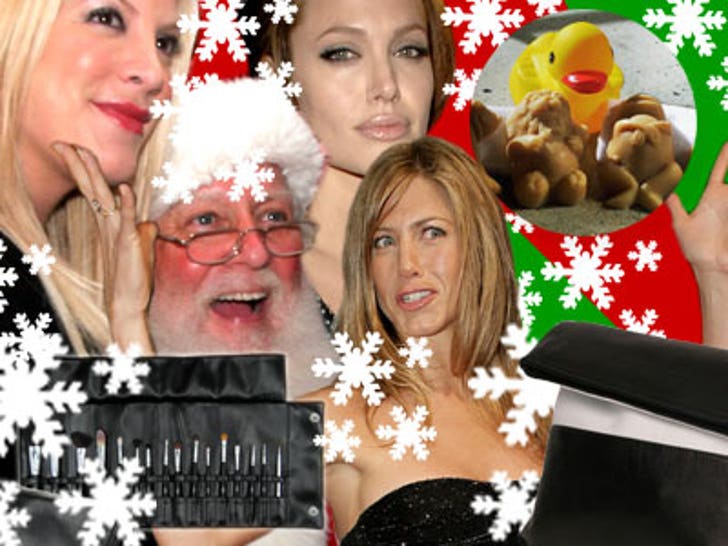 With the last-minute holiday shopping season in full crush, TMZ has learned what gifts celebs Angelina Jolie, Jennifer Aniston and Tori Spelling are giving as stocking stuffers.
Jennifer Aniston is finally getting rid of all her baggage this season, and no, we don't mean Vince Vaughn. After "The Break-Up" star bought two fold-over handbags by poppiecouture.com for herself, she had to make sure her closest buds had them too. Aniston spent over $3000 on ten handbags for her inner circle of gal pals. With her "Friends" salary gone, looks like Jen has become quite the bag lady.
The Jolie-Pitts are sure to have a clean Christmas this year, as Angie picked up two dozen sets of baby animal-shaped goat milk soaps from eZoetic.com. Each $14 set includes soaps in the shape of a dog, lion, fish and frog, and were developed especially for sensitive skin. Maddox, Zahara and Shiloh, you're not in the Third World anymore!
Tori Spelling may have sold most of her castoffs in a highly publicized garage sale, but one thing she didn't give away; her favorite makeup brushes by Vox Cosmetics. Tori was introduced to the brushes by her makeup artist, and along with Molly Simms and Jaime Pressly, became an instant fan. The sets come in various sizes and make great stocking stuffers. Maybe Mama Candy will be getting something other than coal in her stocking!