"High School Musical" Sequel Negotiations Off-Key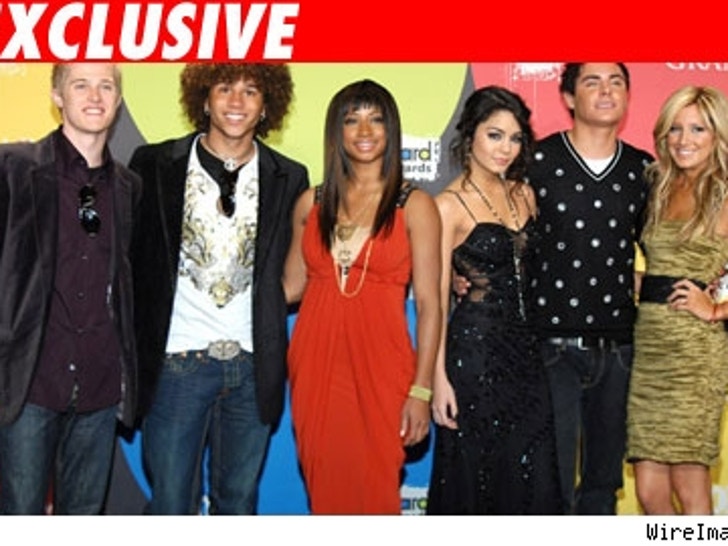 TMZ has learned that negotiations to return three of the four top stars in the sequel to The Disney Channel's smash original TV movie, "High School Musical" have hit a major snag.

If you don't have kids, or aren't currently using Clearasil, you probably don't know that 2006's original Disney Channel movie "High School Musical" reached 100 million viewers worldwide. Or that its soundtrack -- RIAA certified as quadruple platinum - was the number one album for all of 2006. Or that 6.5 million DVDs of "High School Musical" have been sold. And you definitely aren't aware of the sold-out 42 city concert tour that featured most of the principal cast, or that some 2,000 high schools will be licensing the production to perform locally with their own students. In other words, these aren't deals Disney wants to see go asunder.
However, the three key members of the sequel's cast -- Ashley Tisdale, Corbin Bleu and Vanessa Anne Hudgens -- are in a major tussle with the Disney Channel over compensation in the sequel: Insiders say that while the cast is expected to fly to Utah on Sunday to begin rehearsals, Tisdale, Bleu and Hudgens may well be staying put until their deals can be revised for the better. The kids, clearly, want a piece of the soundtrack and the HSM 'merch,' which is ubiquitious these days.
Disney is notoriously aggressive in negotiations in the best of times, so it'll be interesting to see how the Channel's execs will react to kids who won't be pushed around on the playground. Reps for Hudgens, Bleu and Tisdale all declined comment, and referred all questions to Disney Channel; a spokeswoman for Disney Channel casting, Patti McTeague, would only say that "we have signed deals" with the cast, and rehearsals were expected to start on February 19.
In the meanwhile, Disney on Thursday announced it is also prepping a separate, theatrical feature based on "High School Musical" scheduled for release in 2008 called, "Haunted High School Musical."