Paris vs. Lindsay: Celebs Take Sides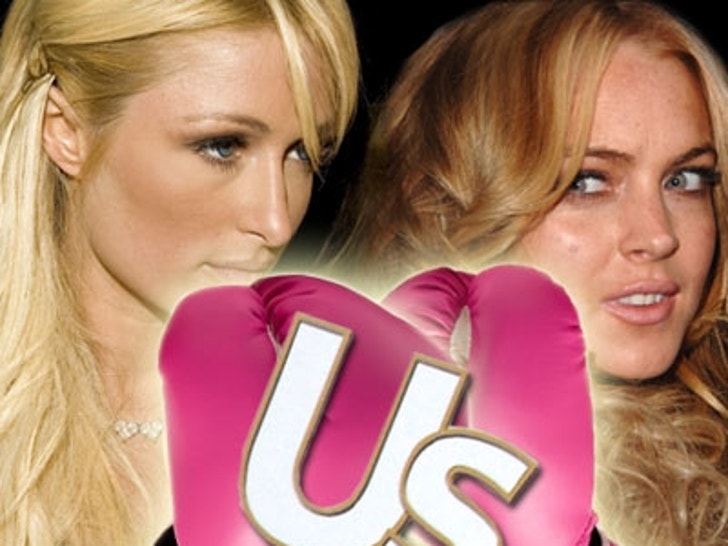 As the one-year anniversary of the Battle of Firecrotch nears, Us Weekly's Hot Hollywood Party was the scene of the latest Lindsay Lohan/Paris Hilton encounter -- and camps are divided by strict party lines! School's in session, kiddies!

Paris arrived first to the championship bout at new Hollywood hotspot Sugar. She mingled with the likes of Jack Osbourne and Kimberly Stewart and then retreated to the club's backroom, where P spent the night texting. Other celebs spotted in the Hilton-friendly ring were Ryan Seacrest, "Sopranos" star Jamie-Lynn Sigler, and former NSYNC boy blanders Lance Bass, JC Chasez and Joey Fatone.
Lindsay's grand entrance came with much more fanfare as photographers and party groupies swarmed the 20-year-old rehabbed former redhead and her entourage. Lohan, with claws retracted, didn't go anywhere near Hilton's corner and set up shop in a booth off the dance floor. Members of Team Lindsay, at least for last night, included ex-Lohan enemy and lipSYNCer Ashlee "I Didn't Steal Your Boyfriend" Simpson, petite Pete Wentz, and most interestingly, Paris' former BFF Kim Kardashian!
La Lohan and crew were the first to throw in the towel and quickly exited the club, while Hilton continued to text as a group of non-famous buds kept the heiress company. It can get so lonely at the top!
With no blood (or underwear) shed, there was no clear winner in this latest paparazzi princess showdown. Can you say "rematch after school at Winston's?"