Francis to Paris: Et Tu Caesar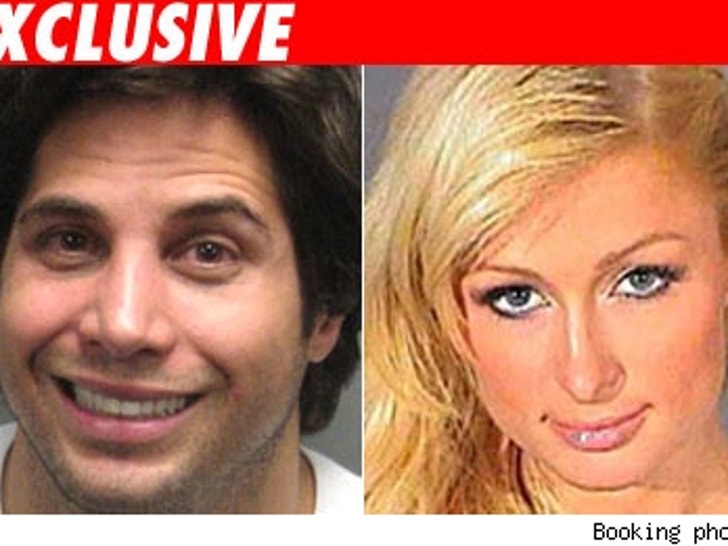 TMZ received the following letter from "Girls Gone Wild" creator Joe Francis. He is currently incarcerated in Nevada:

I returned to my cell the other day after a leisurely walk through the Washoe County Detention Center yard and received a message from Deputy Keast, the Public Information Officer, that you had called. To be honest, I was hoping that my penpal, Candy Spelling, had written me again, but to my dismay I was told that you just wanted to know how I felt about Paris being released from jail early. I was then handed a TMZ.com article titled "American I-Cons". I just thought since I seem to have some extra time on my hands these days that I would like to take a moment to set the record straight.
The "American I-Cons" title is a very clever play on words, but unlike in Paris's current situation, the title does not apply to me. I am not in jail because I have been CONvicted of a crime, but am merely awaiting a chance to vindicate myself.
Paris's early release from jail did not surprise me, nor unfortunately, did her return to jail a day later. My heart goes out to Paris, not only because I consider her a friend, but because I have experienced first hand that incarceration is not set up for high-profile people. In my experience to date, when jail personnel are told to give no special treatment to an individual because of who they are, it normally results in them getting far worse treatment. I must however tell you that this has not been my experience at the Washoe County Detention Center, where my treatment has been fair and where the staff is very considerate. However, the stark reality that I've encountered in the five previous facilities I've been in is that celebrities are segregated from other inmates, and it can be quite a lonely existence with no human contact. It seems as though Paris is seeing this first hand now that she's been sent back to jail to serve her original 45 day sentence. If her name was Jane Doe and everything else in the case remained unchanged, she would never have served a day in jail. As Los Angeles County Sheriff Baca said on Friday: "The special treatment appears to be her celebrity status. She got more time in jail." I empathize with Paris, because I believe I too would not still be in jail were it not for my "high profile status."
Your story also outlined 3 other things: living conditions, food, and free time.
When you discussed my living quarters, you brought up the fact that I was in my own cell until I passed my tuberculosis test. Well, I studied hard and took a Princeton Review crash course and passed it with flying colors. I also passed my HIV test and my hepatitis test as well, so feel free to post the rest of my confidential medical history on TMZ.com, as you and others have done on in the past. I wouldn't want your readers to be getting any incomplete information.
My living arrangements are more than adequate. My cell is actually nicer than my USC dorm room. Yes, it doesn't have cable, but it doesn't have the cockroaches either.
When you discussed food, you mentioned that I was eating "catfood sandwiches, a mix of ground turkey mixed with mayo, and franks n' beans." Well, those two delectable dishes, among others, are offered free of charge to all inmates, but the WCDC also offers inmates the option to order from a local restaurant - "The Burger Barn." My diet actually consists of mostly chicken-Caesar salads with crisp romaine lettuce and half-dressing (my trainer would be proud) usually with a Diet Coke. If I really want to splurge, I may order a Powerbar or two for dessert.
This "free time" thing took me by surprise. I would love to know who gave you the information that I'm out of my cell 8 hours a day. It's probably more like half that. It is during this time that I have the fortunate privilege of meeting new "friends" such as car thieves, drug dealers and murderers. It should make for an interesting night at HYDE when the "gang" and I get back together for a reunion.
Feel free to post a mugshot or two (this one is by far the best). Blue is my color over bright orange for sure, but please remember one thing: In this country anyone who stands accused of a crime is innocent until proven guilty, even if they are a celebrity. I urge that there be no rush to judgment, because you may be wrong. I am still an innocent man standing accused, stuck in jail not because I've been CONvicted of a crime, but rather due to a legal quagmire. I have faced far worse things in the past and I am confident that I will prevail again.