Security Guard Claims Axl Gave Him the Boot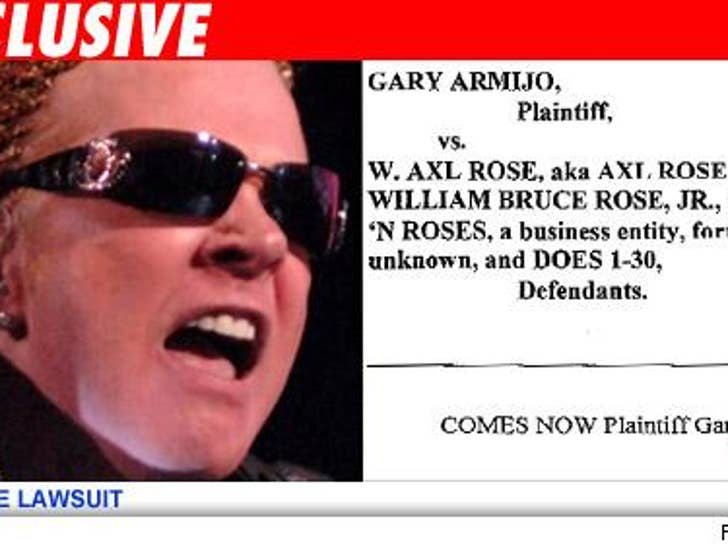 A security guard at a Guns 'N Roses concert is suing the band and lead singer Axl Rose claiming that Rose kicked him in the head while on stage -- back in 1996!

In a lawsuit filed in Los Angeles Superior Court on August 29, Gary Armijo claims that while he was working as a security guard stationed in front of the stage, Rose "intentionally kicked [Armijo] in the head proximately causing severe physical injuries." His injuries were apparently so bad, he forgot to sue for 11 years!
The lawsuit goes on to allege that unless Rose is stopped, he "will continues to commit willful assaults of the nature described herein on innocent members of the public and security personnel, both during and outside of Guns 'N Roses concerts." Wait, people still go to Guns 'N Roses concerts?
UPDATE: Howard Weitzman, Rose's attorney, tells TMZ, "The allegations in this lawsuit are frivolous. There is video of this incident which contradicts the allegations against Axl. Axl vehemently denies he did anything wrong which will be proven via witnesses and the video. Unfortunately anyone can file a lawsuit whether it has merit or not. In my opinion this is a pathetic attempt to get money from Axl."
UPDATE #2: A few astute TMZ readers pointed out the incident couldn't have taken place in 1996 -- GNR wasn't performing then. We're trying to confirm, but the incident probably happened in 2006 -- let's chalk the error up to a typo by the lawyer.