Million-Dollar Trove of Marilyn-abilia Stolen to Be Sold?
Million-Dollar Trove of Marilyn-abilia
Stolen to Be Sold?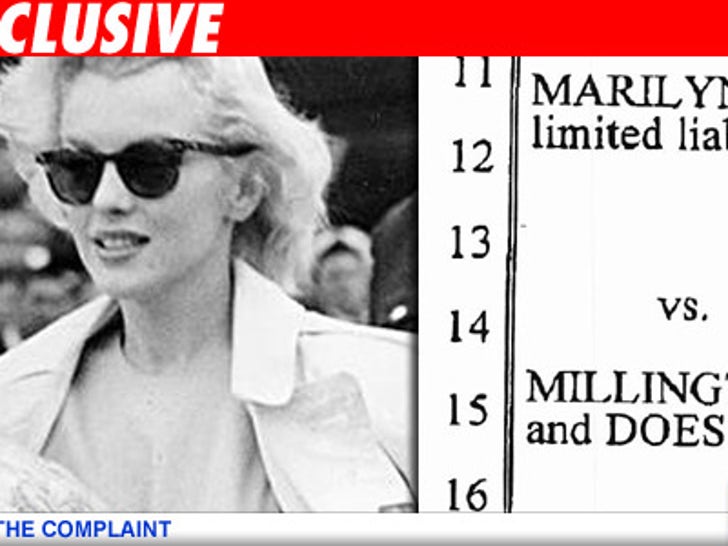 The people who control the late Marilyn Monroe's estate are incensed that a distant relative of Marilyn's assistant has been hording a massive store of her possessions, including letters, notes, bank statements -- even perfume -- and plans to sell it off.
Marilyn Monroe, LLC, the company that controls the star's posthumous holdings, is suing Millington Conroy, as well as a group of unnamed defendants, to stop them from auctioning or licensing any of the stuff they, according to the suit, have nabbed unlawfully. (Conroy is the son of Ruth Conroy, who was the sister-in-law of Inez Melson, who was Marilyn's assistant.) The suit alleges that back in 1994, Millington said in a deposition that all he had of Marilyn's were two pieces of correspondence between Ms. Melson and herself.
Turns out he had a lot more than that.
A spokesman for the estate of Marilyn Monroe said, "The parties are in discussions working toward a resolution of this matter, and a further statement will be issued subsequently."
According to the complaint, filed in L.A. County Superior Court, Millington has "letters, notes, financial records, blank and cancelled checks, bank statements, receipts, recipes, jewelry, fur coats, hats, purses and perfume bottles." And the plaintiffs also claim that Millington has already had these things "photographed by a professional photographer" and "now imminently intends to sell the Marilyn Monroe Properties to memorabilia collectors for millions of dollars."
Neither Millington nor his lawyer could be reached for comment.