Britney and K-Fed -- New War Erupts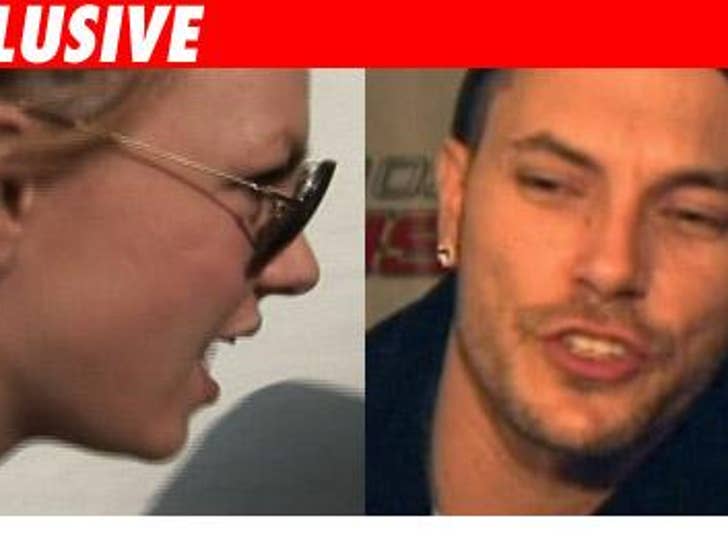 With Brit and K-Daddy working out who gets the kids on major holidays, it would seem they're finally seeing eye-to-eye. Not so.

Sources tell TMZ that Britney and K-Fed are at loggerheads over visitation. We're told that just yesterday, Britney was scheduled to take the kids, but asked K-Fed if he'd trade days so she could shoot her music video during the day. We're told K-Fed refused and Brit was pissed.
Other sources say the reason K-Fed is fed up is because Britney has been like a moving target when it comes to visitation, constantly changing the schedule. We're told she's rescheduled the music video three times before finally shooting it yesterday. Federline, we're told, accommodated her for a while but has had it.
Last Dance for Helio and Fiancee!
Helio may have waltzed into winning "Dancing With the Stars" by doing a Paso Doble ... but the Paso Uno is what he's doing now!
TMZ has confirmed business executive Aliette Vazquez has broken off her engagement to the "Dancing" winner. Vazquez and the race car driver had been dating for more than six years and have been engaged for a year. "There have been a lot of rumors and a lot of misinformation out there," Vazquez's rep Howard Bragman tells us, and she "wanted to set the record straight."
Bragman told us, "This is a personal decision and I ask the media to respect the privacy of Miss Vazquez and her family. She has no plans to talk to the media, but reserves that right if she needs to clarify misinformation or defend her reputation."
Let's get ready to Rumba!
UPDATE: More good stuff! We've learned that the two have not spoken in weeks. And so you know -- this has nothing to do with partner Julianne Hough. It's just between Helio and Aliette.
Lohan: Shop, Eat, Rinse, Repeat
Lindsay Lohan's got her post-rehab routine down pat; she shops, eats, gets her hair worked on, then does it all over again.
TMZ cameras caught LiLo grabbing lunch with some friends at Fred Segal's Mauro Cafe yesterday afternoon, chowing down while a throng of paps snapped away. Lohan got an invite from the manager to attend a Keep a Child Alive event at the Cafe this Saturday -- which would be Lohan's first party since her Utah vacation -- if she attends.
From there, Linds hit up the Byron Williams Salon to get her hair did for a night out at the Staples Center, where the Lakers narrowly beat the Seattle SuperSonics.
Birdman Caged for Pot Possession
While Kim Kardashian and Jennifer Lopez were blessed with bodacious backsides, this Hollywood star is better known for assets in the front. And now we know why!