Dennis Quaid Sues Drug Company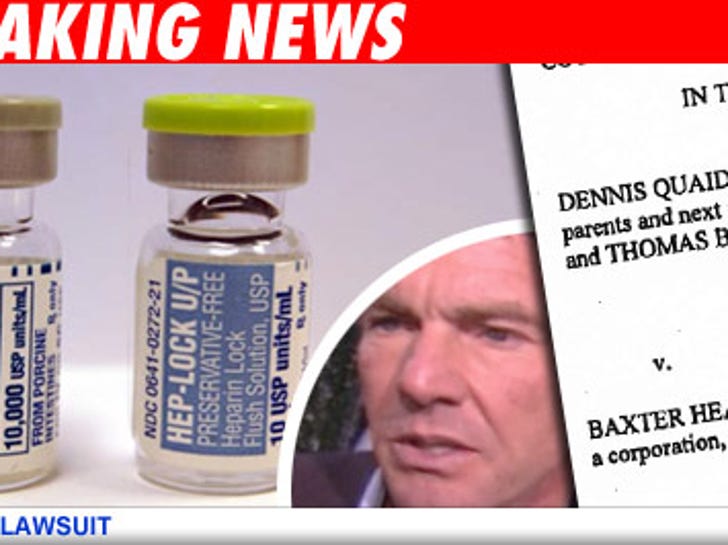 Actor Dennis Quaid and wife Kimberly Buffington have filed suit against Baxter Healthcare Corp., the makers of the drug Heparin.

The couple's newborn twins Zoe Grace and Thomas Boone were mistakenly given a massive overdose of the anti-coagulant drug last month while hospitalized at Cedars-Sinai Medical Center in L.A. The Quaid's attorney says the twins "were very critical for a while," but appear to have recovered and "everything looks good." They filed suit because they want to prevent this from happening to any other children, Loggans said. The suit claims the Baxter is liable and negligent because the packaging of the 10 unit vial of Heparin looks almost exactly as the 10,000-units-per-milliliter vial of the drug.
Three children died in Indiana from a similar mix-up with the drug.
We're told that the Quaids have not sued Cedars ... yet. Just yesterday, Baxter issued a news release outlining the company's new "drug safety initiative" that promises to change the labeling of Heparin vials.

Cedars-Sinai released the following statement:
Cedars-Sinai Medical Center today announced a series of changes it has made in its medication policies and protocols since November 19, as well as immediate additional training of all nursing and pharmacy staff, as the medical center completed its preliminary investigation into a November 18 medication error involving three patients who erroneously received the wrong concentration of heparin (a medication used to prevent blood clotting) to flush their IV catheters.
The medical center's investigation found that preventable errors made by pharmacy and nursing staff caused the wrong concentration of heparin to be used.
A pharmacy technician failed to follow hospital policy of having another pharmacy technician verify the medication and concentration prior to removing it from main pharmacy inventory. As a result, the technician mistakenly retrieved a higher concentration of heparin (10,000 units per milliliter) instead of the lower-concentration heparin (10 units per milliliter) used for flushing IV catheters.
The higher concentration heparin was delivered to the satellite pharmacy that serves the pediatrics unit. A second pharmacy technician, working in the satellite pharmacy, did not verify the concentration of the delivery from the main pharmacy, as required by hospital policy.
As a result, the higher-concentration heparin was placed in a location in the pediatrics unit where the lower-concentration heparin is kept. The nurses who subsequently administered the heparin to the patients also did not follow hospital policy of verifying the correct medication and dose prior to flushing the intravenous site.
The error was identified later that day by Cedars-Sinai staff, who immediately performed blood tests on the patients to measure blood clotting function. In one of the three patients, the clotting tests returned quickly to normal. The other two patients were given protamine sulfate, a drug that reverses the effects of heparin and helps restore blood clotting function to normal. Additional medical tests and clinical evaluation conducted on the two patients found no adverse effects from the heparin or from the temporary abnormal clotting function.
"Although this was a rare event, and attributable to human error, it is also an important opportunity for the entire institution to explore any and all ways we can further improve medication safety," said Michael L. Langberg, M.D., chief medical officer at Cedars-Sinai Medical Center.
"On behalf of the medical center, I extend my deepest apologies to the families who were affected by this situation, and we will continue to work with them on any concerns or questions they may have. This was a preventable error, involving a failure to follow our standard policies and procedures, and there is no excuse for that to occur at Cedars-Sinai," Langberg said.
"Cedars-Sinai's reputation as a quality and safety leader nationally is due in large part to an organizational culture of continually improving our systems to minimize any chance of human error. Immediately following this incident we began additional focused education on medication safety to augment our regular training, and have implemented additional procedures and protocols for our pharmacy and nursing staff," Langberg said.
Among the actions Cedars-Sinai has taken in response to the incident:
■High-concentration heparin (10,000 units per milliliter) has been further sequestered in all pharmacies.
■Only saline will be used for peripheral IV catheter flush on all pediatric patient-care units. (It was already the practice on adult patient-care units to use only saline for peripheral IV catheter flush.)
■In addition to the existing policy of having designated high-alert medications (such as heparin) checked by two pharmacy staff prior to the medications leaving the main pharmacy, and then checked again by pharmacy staff in the satellite pharmacy, a new step requires a second check by pharmacy staff in the satellite pharmacy before they place high-alert medications in stock on a patient-care unit.
■In addition to these checks on designated high-alert medications by pharmacy staff, nurses will continue the existing policy of separately verifying medication and dose prior to giving high-alert medications to the patient.
■The existing ongoing training for pharmacy and nursing staff on medication safety policies and protocols has been augmented with immediate focused education on high-alert medications, begun Nov. 20, to reinforce the hospital's high-alert medication safety policies and protocols:
Starting on the evening shift of November 20:
● All nurses (approximately 1800) were re-trained on high-alert medication policies and practices, and were required to pass a written test on the material before they could resume caring for any patients.
● All pharmacy staff (approximately 200) were re-trained on high-alert medication policies and practices.
■The individuals involved in this incident were immediately relieved of duty pending investigation, and appropriate disciplinary actions are being taken.
Langberg said that Cedars-Sinai is also continuing to cooperate with regulatory agencies investigating the incident, and that Cedars-Sinai would make additional changes in policies and protocols if indicated by the regulatory agencies or any additional findings by Cedars-Sinai.