Dogfighting and Kids Meals? Vick's Lovin' It!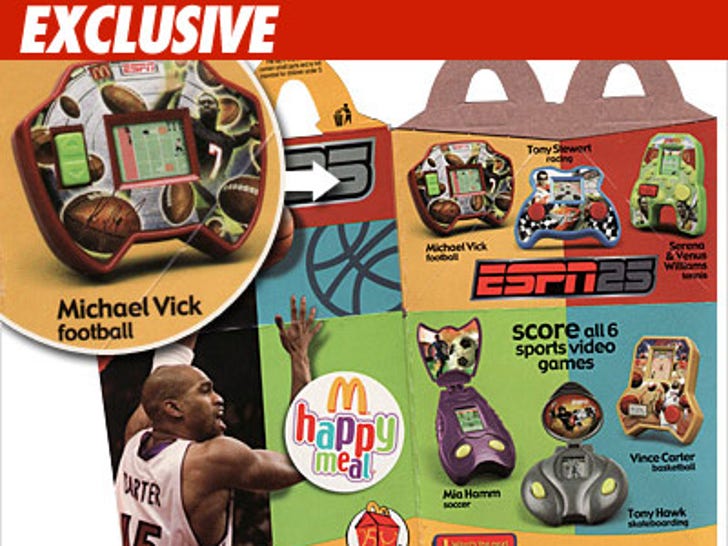 Forget the Hamburglar! McDonald's is promoting its products using an actual convicted felon -- Michael Vick.

A TMZ employee went into a McD's in Hollywood yesterday and ordered a Happy Meal (don't ask). The box she received (pictured above) advertises six different electronic sports games, each of them named after a famous athlete. But Michael Vick is the only one of those athletes who is currently in federal prison.
The advertising was part of a cross-promotion with ESPN from 2004 -- back when Vick was just an overrated football player, instead of a dog murderer. Considering the Happy Meal is specifically targeted to young kids, you'd think Mickey D's would be more diligent about removing the name of a convicted dogfighter off the packaging.
We've contacted McDonald's for comment and they say they're getting back to us. This should be good.
UPDATE: We asked PETA what they thought about the whole thing. PETA's vice president, Bruce Friedrich, told us, "Given that McDonald's lets its suppliers cram animals into metal cages and crates and boil chickens alive, it's sad, but doesn't shock us, and at this point, even Michael Vick himself would probably rather that this particular Happy Meal would be a happy memory."