Pilot's Topless Maneuver -- "That's How We Roll"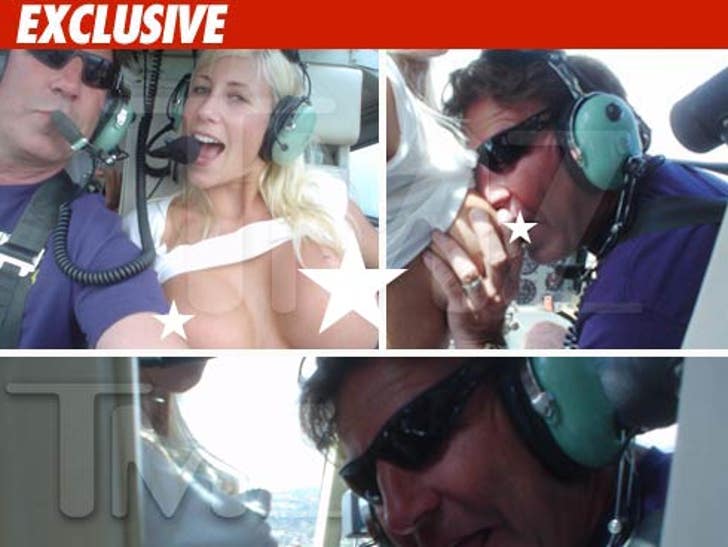 The helicopter pilot who was hauled to an LAPD station for a field sobriety test after flying Tommy Lee on Sunday once had quite the time with a breast-baring woman in the air. Here's the shocking part: The FAA was well aware of the escapade and did absolutely nothing.
In 2007, pilot David Martz was flying a helicopter with the topless woman in the pictures. Look closely as Martz is focused not on flying but on her breasts. TMZ has obtained an email sent to James McNamara, Aviation Safety Technician for the FAA, back in October of last year, with the three photos attached and a news story describing Martz' history, which included allegedly striking a wire in Mexico and landing his chopper in a residential area in L.A. to pick up Tommy Lee. The FAA did nothing to investigate the actions depicted in the photos.
McNamara told TMZ his agency did nothing because there was no formal complaint against Martz and there was no proof he was flying at the time the photos were taken. But we have a copy of the email McNamara received which includes the line, "I think a full investigation is needed of his past behavior and public safety in San Diego."
As for McNamara's claim there was no proof Martz was in the air, you can see the horizon in one of the photos, and you see the airspeed indicator showing the chopper is doing 60 knots (approximately 70 mph). As if that's not enough, we called Martz this morning and he freely admitted he was flying at the time the photos were taken -- he says he was 300 - 400 feet in the air. We asked why he would take his hands off the controls and his eyes off the skies -- Martz' response: "That's how we roll," adding, "It's no big deal."
Turns out David Martz is no stranger to trouble. The FAA confirmed with us they have disciplined him 4 times. In 1986 his license was revoked after the FAA discovered he had a fraudulent medical certificate. It was eventually reinstated. In 2002, his license was suspended for 30 days for flying in a "careless or reckless manner." He performed aerobatic stunts in a populated area below 1500 feet. In 2003, the FAA revoked his license for the same offense -- "careless and reckless." But Martz got his license back again. In June, 2005, his license was suspended -- for the fourth time -- 230 days for "careless and reckless."
Martz is still buzzing the skies of southern California. He took Tommy Lee on yet another trip yesterday, leaving from the Van Nuys airport.